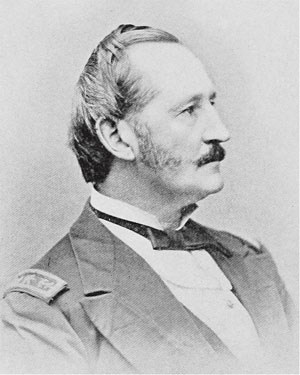 Lieutenant Commander Thomas Holdup Stevens, Jr., of Connecticut, joined the U.S. Navy in 1836 at age seventeen and retired as a rear admiral in 1881. He assumed command of the U.S.S. Ottawa in 1861 and commanded the first Union expedition up the St. Johns River in March 1862.
Shortly thereafter he was transferred from the St. Johns River to the Florida Keys to intercept blockade runners, and was replaced on the St. Johns by Lieutenant Commander Daniel Ammen.
For citation and links, please see the bottom of the page.
-----
U.S. Gun Boat Ottawa
Fernandina March 7th 1862
To
Flag Officer S.J.DuPont
Com'dg South Atlantic Blk'dg Squadron.
Sir
Upon our arrival off St Andrews, I was directed by you to cross the bar at that place, with the Seneca, Huron, Pembina, Isaac Smith, Penguin, [Patapsco], Ellen and McClellan under my command and anchor inside. This was successfully accomplished about nightfall of the 2d, this vessel anchoring about two miles from the point of Cumberland Island, the Patoneska anchoring just outside the bar, as a guide for the rest of the fleet to enter, as you directed. The next morning, as I had orders not to engage any batteries, I made a reconnaissance in this vessel alone, some distance into Cumberland Sound, and finding no batteries, anchored off the Lt House and sent a boat on shore to hoist the flag upon it, making signals to the Seneca and Pembine to anchor near us._ Joining the rest of the Squadron as they passed up the sound, this vessel by order of sailing followed the Pawnee the next morning on our way to this place, The Pawnee grounding about five miles from Fernandina, Commanders Drayton & Rodgers came on board, the latter with the Launches of the Wabash, and we proceeded alone in the Ottawa to the nearest attainable point to the R.Road Bridge, sending as we passed Fort Clinch, Lieut White, the 1st Lieut of this vessel, in the gig ashore to hoist the flag upon the Fort, and proceeded to the accomplishment of the balance of the work, and succeeded in capturing the Stm Darlington and a Pilot Boat_ This done, we were ordered to proceed immediately to St Marys, which we did, reaching the place about 1 o'clock, where we anchored and Comm'dr C.R.P. Rodgers with the Launch of the Wabash and the Cutters of this vessel landed and took peaceable possession(sic). For more complete details I rely upon the Senior Officers who were on board the Ottawa,_ Upon the arrival of the Isaac Smith at St Marys, I proceeded in this vessel, under your instructions, on a reconnaissance up the St Marys River and reached a point called Woodstock Mills a distance of aabout 50 miles from this place, landing at the plantation of a Mrs. Campbell and that of a Mrs. Downes, a place called the Brick Yard, and at Woodstock Mills, owned and occupied by a Mr. Alberti, and notifying those whom I met. (which seemed to reassure them) of your intention to protect all peaceable citizens, in their persons and property_ inviting those who had fled to return to their homes. I enclose herewith a copy of the communication I left with Mrs. Campbell and Judge Alberti to signify the same to the people, generally.
Before leaving the Woodstock Mills I learned through a negro, it was the intention of the rebels to cut us off, with their light batteries, and infantry of the Mississippi Regt. Who had been stationed here._ When near the Brick Yard the enemys riflemen attacked us in force from both sides of the narrow river. I opened upon them with our batterey(sic) using grape and canister and small arms, killing and wounding a large number. The fire was kept up from both sides of the river (here about 100 yards wide) for about a mile when we saw nor heard anything more of them, until above the plantation of Mr. Campbell, when discovering a large body of cavalry about 1200 yards, ahead of us I threw a few 10 second x1(?) inch shell among , when they fled in great haste and confusion. Passing down the River a bout three miles farther, just where it debouches into the marshes we discovered in ambush a body of the enemy, and before they had time to fire gave them a round from the x1 inch loaded with canister, the 24" Howitzer and the 12" Howitzer of the Wabash (which I had taken on board before leaving) which was worked admirably as indeed all the guns were, Very few of the enemy escaped this distructive(sic) fire,_ I enclose herewith a list of the casualties which occurred on land, from the fire of the enemy, which was very accurate as the various narrow escapes of both officers and men and the numerous bullet holes in the sides of the vessel will testify.
I am informed that some distance beyond the Point, I reached, there are large quantities of Turpentine on board of two Steamers._ the steamers cannot escape_ I saw also on the banks of the river, the live-oak frame complete for a ship of 1800 tons, ready for shipment and a schooner in very good order of about 100 tons, which as the river is very narrow, and the turns following each other in quick succession, sharp and abrupt, I did not think advisable to attempt to tow down, with so long a vessel.
The live-oak for many miles along the River abounds.
I am quite confident that our visit will be productive of good, both to those well disposed and to our enemies who have been taught a lesson they will not soon forget. From my observation, such a thing as free speech among them is a tradition, and the reign of terror rules everywhere, still those I saw were very gratified for the assurances given and I doubt not some will avail themselves of our protection.
Finally permit me to commend to you the good conduct (uniform throughout) of both Officers and men, and to thank through you Midshipman Pearson of the Wabash, who commanded her cutter, for the valuable assistance he was, in fire and out of fire, always ready to render.
Very Respectfully
T.N. Stevens
Lieut Comm'dg
-
Copy of the note left with Mrs. Campbell & Judge Alberti
St Marys River March 5th 1862
U.S. Gun Boat Ottawa
St Marys River Mar 5th 1862
Capt Stevesn of the US Gun Boat Ottawa is authorized by Flag Officer DuPont to assure the peaceable citizens living on the St Marys River, that they will be protected in their persons sand property, that it is his desire they should return to their homes, where nobody will come near to harm them
T.N. Stevens
Lieut Comm'dg

Copy of Dr C.O. Carpenter's report, of casualties which occurred on board the Ottawa, St Marys River Mar 6th 1862.
Capt T. A. Stevens
Sir
The following is a report of those wounded in the action this morning by the confederate riflemen.
[unclear] DeCordy - Masters Mate, seriously. Rifle shot through upper third of left arm, the bone not being broken.
I.F. Roberts, "ordinary seaman." Rifle shot in the right wrist, the ball was extracted.
Michel Gray "ordinary seaman" slightly. Rifle shot in calf of right leg.
Benj F. Ripley "ordinary seaman" slightly. Rifle shot crushed his left thumb.
These men are all doing well.
Very Respectfully
Chs O Carpenter
Asst" Surgeon
-----
U.S. Gun Boat, "Ottawa"
St Johns River Mar 12 1862
The senior officer commanding the Naval Expedition in the waters of the St Johns is authorized by Flag Officer DuPont to assure the peaccable(sic) citizens of Florida generally that they will be protected in their persons and property, that it is his desire they should return to their homes, where nobody will come near to harm them
T. A. Stevens
Lieut Comm'dg
-----
U.S. Gun Boat Ottawa
Off Jacksonville Mar 13th 1862
To Flag Officer S.F. DuPont
Com'dg South Atlantic Blockading Squadron
Sir
I succeeded in crossing the bar with this vessel the Seneca, and Pembina the day before yesterday about 4 o'clock having no water to spare under our keels - The Smith crossed half an hour afterward and without a pilot - As it was necessary to make arrangements to land a company of soldiers for the protection of the guns, before leaving the enterance(sic) of the river I found it too late to move up to this place that evening. Near 10 o'clock I discovered large fires bearing W.S.W. from our anchorage, which proved to be, on my arrival here, the burning of Mills, houses, and property belonging to northern men with suspected union proclivities, burnt by order of the rebel commander.
I left Mayport yesterday with the vessels named, for this point ordering the Ellen to stop at St Johns Bluff and take on board the guns, and munitions of war at that point, abandoned on our entrance into the River and afterwards to rejoin me here, which mission she accomplished successfully. We succeeded in reaching Jacksonville without difficulty and at every house, saving one found evidences in the way of peaceful demonstrations of returning reason.
On our arrival at this place the corporate authorities through S. C. Beverett Esq." came off with a flag of truce and gave up the town. From conversation with intelligent citizens I find that the inhabitants are seeking and waiting for the protection of our Flag, that they do not fear us, but their own people, - from the occupation of this important point I am satisfied if our opportunities are improved great results will flow.
Many of the citizens have fled, many remain, and there is reason to believe most of them will return. I send this communication by Capt Nicholson who will be able to inform you fully of the actual condition of things.
I would respectfully request an addition to the land-forces from Fernandina or any other point, and authority to leave two vessels here.
The land forces are in want of provisions.
I leave this morning in the Ottawa with the Ellen in company to penetrate as far as is prudent the upper waters of the St John's.
I have just heard that the Municipal Govt has been restored.
Very Respectfully
T. H. Stevens
Lieut Comm'dg
-----
U. States Gun Boat Ottawa
Off Jacksonville Fla. Mar 13th 1862
To Flag Officer
S. F. DuPont
Com'dg South Atlantic Blk'dg Squadron
Sir
An imperative duty has rendered it necessary for me to put under arrest Col Thomas P. Whipple of the 4th N.H. Regt. My reasons for this course will appear by the accompanying documents.
The Col. Is on board the Isaac Smith.
Respy Your Obt Servt.
T.A. Stevens
Lieut Com'dg' & Senior Officer present
-----
U.S. Gun Boat "Ottawa"
Off Jacksonville Fla Mar 13th 1862
To Capt Greenleaf 4th N.H. Regt.
Provost Marshal
Sir
You will arrest Col Thomas P. Whipple of the 4th N.H. Regt. and place him in charge of Lt Comm'dg Nicholson on board the U.S.S. Isaac Smith.

Respectfully
T.A. Stevens
Lieut Comdg USN & Senior Offr present
-----
U.S. Gun Boat Ottawa
Off Jacksonville Fla Mar 14 1862
To Flag Officer S.F. DuPont
Comdg Southr Atlantic Blk'dg Squadron
Sir
Since my last communication I have made a reconnaissance as far as Palatka, and found no hostile demonstration on the contrary the assurance I gave that we did not come to molest peaceable citizens, has had a good effect._ I am induced to believe from the results of my visit up the River and from my intercourse with the citizens here, if a sufficient force is left at this point to protect the union sentiment which is showing itself more and more, the State of Florida will soon be disenthralled _ Genl Wright has been, and is still here_ he leaves tomorrow to meet you, and to him I refer for full particulars as to the actual condition of affairs,_ I am happy to say our views fully accord.
If the vessels should be kept here for any length of time, they will require provisions and coal. On my way down to this place from Palatka, I sent Act'g Master Budd with the 1st Cutter of the Wabash, to seize 9 Bags Coffee belonging to the Rebels, which he succeeded in obtaining.
I go up this evening in the Ellen with the two armed boats from the Wabash in company with the Darlington, which latter vessel is now here, to capture if possible the Yacht America and Steamer St Mary. When the objects in view have been [bottom of letter missing]…
…a full report of what has transpired since separating(sic) from the Flag Ship.
Very Respy
Your obdt Servt
T.A. Stevens
Lieut Comdg & Senior Offr present.
-----
USS Sonoma
Moro Lt bearing SE b E 18 miles
March 15th 1863
To the US District Attorney
Key West Fa.
Sir
I send to Key West for adjudication the English Brigantine Atlantic in charge of Actg Ensign Charles Norton of this vessel.
The papers ford to the Judge of the District Court are without Manifest, Bills of Lading Letters of instruction or Register.
The Atlantic was captured by this vessel, Moro Light bearing as above upon this the 15th day of March 1863.
Very Respy Yours
T. H. Stevens
Commander US Navy
-----
USS Sonoma March 15th 1863
Moro Lt bearing SE b E distant 18 miles
To the Judge of the
US District Court
Key West. Florida
Sir
I send to Key West for adjudication the English Brigantine Atlantic, captured by this vessel under my command this day Moro Lt. bearing as above.
Enclosed are all the papers delivered to me by the Captain of the Atlantic.
I have the honor to be
Your ob. Servt.
T.H. Stevens
Commander U.S.N
-----
U.S. Steamer, "Sonoma" -
Key West, March 18th 1863.
To the Honorable
Secretary of the Navy
Sir,
I have the honor to inform you that on the evening of the 15th ?, Moro Light then bearing S.E. by E. distant 18 miles, this vessel captured the Brigantine Atlantic, purporting to be an English vessel and bound from Havannah to Matamoros -
When hailed as to his destination the Captain replied he was bound to Mexico and upon boarding and examining his papers she was found to be without Manifest - Bills of Lading - letters of instruction or aught else saving her shipping papers - her Logbook was also mutilated and about forty pages cut from it -
I placed Acting Ensign Charles Norton, with a prize crew, on board with orders to take her to Key West for adjucation(sic), but as the wind died away during the night I made fast to her and towed her to this port, where we arrived yesterday -
I have the honor to be
Yours Respectfully
(Signed) T. H. Stevens

A copy of this report was forwarded to Acting Rear Admiral
Charles Wilkes
Commd'g W.I. Squadron
-----
U.S. Steamer, "Sonoma"
Key West, March 18th 1863
To the Honorable
Secretary of the Navy
Sir,
I have the honor to forward herewith a list of the Officers and crew of this vessel, entitled to share in the Prize Brigantine Atlantic -

I have the honor to be
Yours Respectfully
(Signed) T.H. Steven
Commander
-----
U.S. Steamer, "Sonoma"
Havannah, March 27th 1863,
To Rear Admiral,
Charles Wilkes,
Comd'g W.I. Squadron
Sir,

In obedience to your confidential instructions of the 21st [unclear], I visited Abaco for the purpose therein refered(sic) to, and after diligent inquiry am forced to the conclusion that the information with which you have been furnished, is incorrect_
Immediately upon anchoring, I started two persons ashore in whose intelligence and fidelity, I have full confidence, and neither of them upon a carefull(sic) investigation, and in conversation with the inhabitants about the Light House, could learn anything of signals having been made at any time by night or day for the purposes suspected, nor had any boats ever communicated with a like object -
Mr. Thompson, the Light House keeper, came on board the Sonoma, and fully corroborated all the information I had before gathered…………..
[The rest of this letter is missing. The letterbook skips from page 84 to page 92]
-----
U.S. Gun Boat Ottawa
Off Jacksonville Fla Mar 28/62
To Flag Officer S.F. DuPont
Com'dg South Atl'c Blk'dg Squadron
Sir
I returned this morning with the launch and 1st cutter of the Wabash and the Steamer Darlington and Ellen from Dunn's Creek with the Yacht America which after a weeks hard labor and valuable assistance of Lieut Irwin, Act'g Master Budd and 1st Asst Engineer Dungan, I succeeded in raising and bringing to this place, - where I shall keep her awaiting your further instructions. She is without ground tackle or sails & almost evrything(sic) else, but her lower masts, bowsprit, gaffs, and some light spars,_ I sent the Darlington with the boats of the Wabash, to St Augustine apprehending that you may have use for them. If not and I can have there(sic) services, I purpose to go to Hass Creek and raise the Str. St Marys, in which I have no doubt we shall succeed._ Further up the St Johns River there is a large amount of floating property, which is of value to the rebels, and will be of great use to the US Government.
On my way down I stopped at Palatka and took on board the Ellen a quantity of rosen(sic), syrup, moss, hardware etc which I have placed in charge of Genl Wright in one of the storehouses of this place, leaving word with Ex Govr Mosely at Palatka, if the property belonged to persons not in arms, or not inimical to the authority of the Govt of the United States, it would be returned, or if used paid for at a fair market value, otherwise not,_ Some eight or ten miles below Jacksonville there are two pieces of Artillery sunk, which Capt Ammen will endeavor to secure tomorrow._ I enclose his copy of a communication which will explain itself.
Everything remains quiet at this place._ Awaiting your instructions,

I remain respectfully
Your obt Servt
T. H. Stevens
Lieut Comm'dg US.N.
I enclose a Proclamation of Genl Sherman, which you may possibly have not seen, and the Resolutions of the Citizens of this place.
-----
U. States Gun Boat Ottawa
Off Jacksonville Fla Mar 30 1862
To Lieut Comdg Daniel Ammen U.S.N.
Com'dg US Gun Boat Seneca
Sir
You will please proceed with the Seneca, under your command to Orange Mills at as early an hour as is practicable tomorrow to carry out the intentions signified in the notices I have handed to you.
I have reason to believe that a person known as Dr. Mays is the one responsible for the abduction of DeCosta,_ if upon investigation you find this to be the fact, his premises alone are to be destroyed should this be necessary, if others are implicated in the matter I leave it to your discretion to do what is right and just.
On your return here please make a written report of your proceedings.
Respy Yours
T.N. Stevens U.S.N.
Senior Officer present
-----
U. States Gun Boat Ottawa
Off Jacksonville Fla Mar 31st 1862
To Flag Officer S.F. DuPont
Com'dg Southr Atlantic Blk'dg Squadron
Sir
On Saturday last, I wrote you by the Steamer Darlington, giving you an account of what had been accomplished up to that date.
This morning I sent Capt Ammen in the Seneca, to Orange Mills to attend to the DeCosta affair, and enclose herewith a copy of my orders to him which I hope will meet with your approval.
We are greatly in want of provisions coal, etc.
Capt Ammen has succeeded in getting the 2 guns which were sunk some 10 or 12 miles below Jacksonville.
Everything remains quiet here though we have reason to believe the enemy are concentrating a force of some 2500 men in the neighborhood.
Respy Your Obt Servt
T. H. Stevens USN
Lieut Com'dg & Senior Offr present.
-----
U.S. Gun Boat Ottawa
Jacksonville Fla. Mar 31st 1862
My dear Captain,

I hope you will appreciate the motives which have induced me to keep the Darlington and Mr. Mattier [unclear] so long away from you. Mr. M. started in the Darlington last Saturday expecting to reach Fernandina, in search of the Flag Officer but learning that the Flag Shift had gone to Port Royal, the Darlington with the boats of the Wabash followed him there, leaving Mr Mattier on board the Belvidere off St. John Bar. Without his assistance I could not have moved - toward the interior - with it I have gone some 120 miles inland, and have done I hope some good._ We have succeeded among other things in getting the Yacht America.
Yours Sincerely
T.N. Stevens
To Capt P Drayton USN
Com'dg Naval Forces
In the waters of the St Mary's
-----
U S Gun Boat Ottawa
St Johns River Fla Mar 11/62
The vessels will move at daylight taking precedence according to rank. Should it be necessary to engage the enemy, the vessels will form in line ahead at a distance of a cables length.
The 1st Repeater at the Fore will be signal for all armed boats of the Wabash with the land forces of board the expective [unclear] vessels, to repair on board the Ottawa. No boat will land without permission of the Senior Office Com'dg, whose motions are to be followed.
T. A. Stevens
Lieut Comm'dg
-----
U States Gun Boat Ottawa
Off Jacksonville April 3d 1862
My dear Captain

Mr Redding came up to this place yesterday in a small boat from the bar notifying me of the arrival of the Hope and bringing your letter with the several communications from the Flag Officer. Today in obedience to orders from the Flag Officer I dispatch the Seneca to him with instructions to communicate off the bar with you, to receive any mail communications you may wish to send to Port Royal.
I am very sorry about the Darlington as I have before written you, Lieut Irwin of the Wabash left here last Friday in her for the purpose of taking to the Flag Ship the launches of the Wabash, which I understood were greatly needed for some important service,_ I directed Irwin to go to St Augustine and from there to Fernandina, but had no idea of his taking the Darlington to Port Royal. I hope she is safely back again under your order_ If you can spare her I have a great deal of work to do which cannot be done without her assistance.
I think if I could have her services for a week I could send her back at the end of that time. The work that is to be done, in securing the floating property of the rebels up the St Johns requires a light draft steamer, and cannot be done without.
I have been trying to get Mr Mattier to you for sometime past, but thus far, he has only succeeded in getting as far as the Bar of St Johns,_ he is a good Pilot by the name of Clark go up in the Hope to report to you. I send Mr. Clark who is a good Pilot for Fernandina, because is you can possibly spare the services of Mr. Mattier, I have great use for them in the difficult navigation of the upper waters of the St Johns. If you cannot spare Mr Mattier, will you please send Mr. Clark to Jacksonville when convenient.
I Col. Bryant and a Mr Fairbanks both gentlemen of character and influence in this section of the country go to Fernandina in the Hope to look after some slave property which has deposited itself there, they understand. I have told them I would mention the object of their visit to you and request you to give them whatever facilities your official position may afford toward securing the object of their mission.
Col. Titus has been informed that two of his slaves have been left by the Wabash at Fernandina. Can they be sent in one of our vessels to him? I told him I would bring the subject to your notice.
Everything is quiet here though the people are greatly alarmed about the reported gathering of a large force in the neighborhood. I think with the meanes(sic) we have here, never mind what the numerical force of the rebels, we are perfectly secure, but it would hardly do to leave the place with the naval protection it now enjoys at least not for a time, Everything about us looks promising and we all hope before long that Florida will be once more under the protection of the flag we all delight to honor.
I think I wrote you, we had succeeded in raising the Yacht America, she is now anchored off the town, I hope the Flag Officer will conclude to give the good people of New York once again a sight of this beautiful vessel.
I send you a copy of Shermans Proclamation and a notice of mine to the persons interested in property at Orange Mills.
Thanking you for considerate kindness in regard to the Flag and newspapers, I remain
Very truly Yours
T. H. Stevens
To Commdr
P. Drayton
Comdg Naval Forces in the waters of the St Marys
-----
U. States Gun Boat Ottawa
Off Jacksonville April 3d 1862
To Flag Officer S. F. DuPont,
Com'dg South Atlantic Blk'dg Squadron
Sir
Lieut Com'dg Ammen in the Seneca leaves to day according to your orders to report to you, -- the armed boats of the Wabash left with me, I presume have ere this, reached Port Royal.
Capt. Ammen's services always so distinguished have been to me invaluable in the expedition you have honored me in placing under my command, and I part from him with great regret. He arrived here yesterday from Orange Mills where he had been to investigate the circumstances attending the abduction of DeCosta, the correspondence in relation to which I herewith enclose. I shall visit the place to receive Dr Mays answer to Lieut Com'dg Ammens notes, and take such action as may be needed in the way of retributive justice.
Your communication of Mar 22d reached me yesterday. I thank you Sir, for the complimentary manner you have been pleased to speak of my services, Always anxious to do my duty, I find new incentive to exertion, in the cordial recognition from you of this desire on my part, and I trust that in future I may be so fortunate as to give you satisfaction.
With proper means I have no doubt I shall succeed in securing a great amount of public property, but without a light draft steamer, and a couple of boats armed with Howitzers I shall be obliged to confine my operations to a very small portion of the St Johns River and its tributaries.
In regard to the naval force required here, I am of the opinion that two gunboats with the Ellen will be sufficient to insure the objects you have in view, -- this will enable me to keep two vessels at this point, and leave one to keep moving up and down the St Johns, from Mayport to Palatka, to insure protection from lawless marauders, to the inhabitants living on its borders.
The Ellen is undergoing necessary repairs, which can be done here at reasonable prices and by experienced workmen. The rebels in destroying by fire the frame of a gun-boat being built for their service under the direction of Farrand late a Commander in the U.S. Navy left untouched the berth-deck planking of the vessel which is now being used for repairing the Ellen's hurricane deck.
The repairs to her upper works, boiler, and machinery can be effected here, -- her bottom you are aware is not coppered. Should you upon this representation deem it necessary for her to go to Port Royal to have her bottom repaired, will you please send a substitute, in a vessel of a similar class.
I understand that Genl Wright is about erecting a battery, with the guns taken from St Johns Bluff, by Act'g Master Budd in the Ellen near the outskirts of the city as additional protection to the place.
I enclose herewith Capt Budds report concerning the guns and also a list of articles taken on board at Palatka by my orders.
You will have been informed from my previous communications as well as from other sources I presume, that upon the River St Johns from its mouth upwards, as distance of some two hundred and fifty miles, upon each side including the towns of Jacksonville and Palatka the inhabitants are for the most part quite peaceable and apparently well disposed towards their old flag, -- to this may be superadded the city of St Augustine and that tract of country which lies between it and the river St Johns. The population of all this reigon(sic) which I have mentioned is, to be sure but a very small portion of that of the whole state yet I venture to suggest for your consideration whether it would not be well to furnish them at an early day the benefits of a civil administration of Federal laws. This it is unecessary(sic) to say, can be done only by the appointment of Federal Officers, viz: A Judge, Dist Att'y and Marshal, as also custom-house officers and Post Masters,_ Questions are now continually arising, and which will naturally multiply as we extend our occupation of the country, touching seizures, and the right of property generally, as between the US Govt and individuals. They have already been found to be in many cases embarrassing and in justice to the parties should be dealt with judicially. I suppose that the laws of the Genl, Government must be regarded as in force in the State of Florida as though no rupture had occurred, and that the appointment of civil officers is only necessary to secure there(sic) execution. -- so far as this portion of the State is concerned.
With your permission I purpose to buoy the channel of the St Johns bar, having found suitable buoys at this place, and only require new moorings to accomplish the work.
In regard to the condition of public feeling I am glad to assure you that the policy inaugurated by you is bringing forth good fruit, and the leading citizens agree with me in the belief that in a brief while the State will be disenthralled.
Very Resp'y
Your Obt Servt
T.N. Stevens
Senior Offr present
-----
U.S. Gun Boat Ottawa
St Johns River Apl 9th 1862
My dear Captain,

I address you for the purpose of impressing upon you the absolute necessity for the transports to preserve their proper stations in the line otherwise the vessels of war designed for the protection of the transports and troops on board, will be unable to afford it.
Within the distance of a mile or two below our vessels have been fired upon from the thickets by the rebels and I design shelling them out - if there.
Yours truly
T. H. Stevens
Senior Naval Officer
To Capt Crocker
Com'dg Str Cosmopolitan
-----
US Gun Boat Ottawa
Off Mayport April 10th 1862
Sir
You will proceed in the Ellen to Jacksonville and there land Judge S.L. Burritt and family with such of their effects as are on board your vessel, if he should desire it, unless objections should be made thereto by the enemy who may be in occupation of the place.
On your arrival at Jacksonville should a force be there you will send a boat on shore with a white flag, and exhibit these instructions to the Officer in command to show him the purpose of your visit.
Having accomplished the object of your mission you will return without delay and report to me at this place.

Respy Yours
T.N. Stevens Lieut Com'dg
US Naval Forces in the waters of the St Johns,
To Acting Master Wm Budd, USN.
Comm'dg US.S. Ellen
-----
US Gun Boat Ottawa
Off Mayport April 10th 1862
To Ac'tg Master
Wm Budd USN.
Com'mdg USS Ellen
Sir

The open instructions which I herewith enclose, you will show to the Com'dg Officer of the Rebel troops at Jacksonville to explain the object of your visit.
Availing yourself of this opportunity you will examine carefully the different points upon the River for the purpose of informing yourself whether there is any evidence of an intention on the part of the rebels to prevent our free occupation of it.
While cautioning you against the probability of ambuscades I would also caution you against an unnecessary display of force. The mission intrusted(sic) to your charge is a delicate and responsible one, for the performance of which I rely upon your discretion and judgement(sic).

Respy Yours
T.N. Stevens
Lieut Com'dg US Naval Forces
In the waters of the St Johns
-----
U.S. Gun Boat "Ottawa"
Off Mayport Fla, April 10th 1862
To Flag Officer S. F. DuPont
Comdg South Atlantic Blk'dg Squadron
Sir
Upon consultation with General Wright who had orders to evacuate Jacksonville and withdraw the land forces, I concluded to withdraw the Naval Forces under my command to this place
A large rebel force in the vicinity of Jacksonville rendered a conflict between them and our forces probably, in which event the Town would be in peril, and as it contains a large amount of property belonging to Union people, this was the main reason which influenced my course
The Ellen returned to Jacksonville to day with orders to send a boat on shore under a flag of truce to land Judge Burritt and family, who came on board the Ottawa for protection and now desires to return.
Since communicating with you I have visited Orange Mills and shelled the house of Dr Mays, after being satisfied he was the party mainly implicated in the abduction of DeCosta.
Should I not receive instructions from you in the course of two or three days I shall visit Port Royal for the purpose of communicating with you personally, for new instructions on this change of policy which has produced great distress among the Union people, many of whom are fleeing for their lives from the protection of the confederate government and are on board the transports and naval vessels
The visit of the Ellen to Jacksonville will assure the confederate authorities we still hold possession of the River. Capt Budd has orders to hoist the flag of truce only when appearing off the town
Respy Your
Obt Servt
T.N. Stevens
Lieut Comdg USN
-----
U.S. Gun Boat Ottawa
Off Mayport April 13th 1862
My dear Captain
Upon consultation with Genl Wright who had orders to evacuate Jacksonville I withdrew the Naval Forces to this place, my reason being to prevent the destruction of property which belonged to Union people rendered probably by a conflict with the land forces of the rebels - of this I have informed the Flag Officer. At the same time when the Ellen returned the day before yesterday to Jacksonville to land Mr. Burritt and family who had come on board the Ottawa for protection, I directed Capt Budd to display the white flag, only when appearing off the place, and to haul it down as soon as his mission was fulfilled(sic), -- this was done to signify to the enemy that we claimed and intended to hold if desireable(sic) possession(sic) of the entire River, and at the same time afford protection to the oppressed. It is it appears to me to be the wisest course to pursue for the present, but as the whole condition of things have been changed by the evacuation of Jacksonville, I shall go in a day or two with the Ottawa, Ellen and America to Port Royal to learn the Flag Officer's wishes and policy. You are aware when we first entered the St Johns the Flag Officer intended and so instructed me to make an armed reconnoissance(sic) as far as Jacksonville - this accomplished, I was directed to return leaving a vessel at the mouth of the River for blockading purposes, with orders from the Com'dg Officer to report to you whatever information he might have. These original instructions I shall now act under and will leave here the Pembina.
This will be handed to you by S.L. Burritt Esq' a personal friend of mine and one of the most influential citizens of Florida. He goes to Fernandina in company with several prominent citizens all of whom I know have been quite peaceable and unoffending citizens, who have taken no active part in the rebellion, to endeavour(sic) to secure some property which has escaped from them, in some of the transports which were at Jacksonville. Capt Bankhead says he heard Genl Wright give the order to put all the negroes on shore before leaving, and that afterward they were enticed on board by the soldiers, -- of course our relations to the subject are very delicate, but at the same time it appears tome to be an easy matte for the Com'dg Officer, without taking any active part in remanding them, to allow owners to take them. I can assure you, and so will Judge Burritt that the policy pursued by us in the non-interference of property, was rapidly producing a reaction of feeling which would in a short time have converted a majority of the citizens of the State to the Union cause and now by refusing to carry out this policy, I am very well satisfied that the great advantage gained in securing the confidence of the people and divesting them of erroneous impressions, will be more than lost, not only as it effects the union cause here, but throughout the South. In view of this, will you give Judge Burritt whatever assistance you can in effecting the object of his visit, he has been of great service to me in the attempt I made, and was doing so well toward effecting in bringing back people to their senses. I am sorry to trouble you, but the good of the cause, will I hope as a motive with me be sufficient.
I shall leave Bankhead with an ample supply of provisions and coal.
If you have any mails for us will you please send them to Port Royal. A telegraph despatch(sic) lately recv'd at Jacksonville, says Beauregard after having driven Grant back near Corinth has in turn retreated.
Very truly Yours
T.N. Stevens
Lieut Comdg USN
To Comm P. Drayton
Com'dg US Naval Forces
In the waters of the St Marys
For Judge S.L. Burritt
-----
[n.d., placed after April 15 letter]
Received of Lieut Col G. Thorpe Maxwell through Capt Steele, a person calling himself W.W. Lunt who says he is a deserter from the 9th Maine Regt. and also Two hundred & sixty eight Dollars in paper money which the said Lunt is accused of having stolen from a woman named "Ellen" at or near, Fernandina.
The prisoner and the money to be delivered to the Com'dg Officer of the land forces at Fernandina.
T. H. Stevens
Com'dg US Naval Forces
In the waters of the St Johns
Copy of a "memorandum" left with me by Capt N. Steele Co "A" 3d Regt Florida Vols. to be handed to the Com'dg Officer of the Federal Forces at Fernandina Fla._
I have reason to believe that the woman "Ellen" refered(sic) to as the woman who was supposed to have been robbed by the man Lunt is a Miss Ellen Manning (or Manin) she having received a permit from Col W.G.M. Davis to visit Fernandina for the purpose as she declared of recovering a sum of money which she had left in her hasty departure from that place when the Federal fleet entered it.
(Signed) Holmes Steele
Capt Co, "A" 3d Regt Florida Vols.
-----
U.S. Gun Boat Ottawa
Off Mayport April 15th 1862
To Col. W.G. M. Davis
Col. Comm'dg Provisional Forces E. Fla.
Sir
Your note, by the hand of Mr Pierson did not reach me in time to reply to, on his return.
I now avail myself of the opportunity which the return of Capt Steel affords, to express to you my regret that the course of conduct I have endeavored to pursue as Com'dg Officer of the Naval Forces in the waters of the St Johns, in relation to the property of unoffending citizens, should have been capable of misconstruction by anyone.
Rest assured, Sir; no encouragement or inducement has been offered on my part, or on the part of any officer or man under my command, to entice slaves away. My orders are stringent upon this subject and I know of no violation of them.
Your Obt Servt
T. H. Stevens
Com'dg US Naval Forces in
The waters of the St Johns
-----
Letters sent by Comdr. Thomas H. Stevens, Oct. 1861 - July 1865, Record Group 45: Records Collection of the Office of Naval Records and Library, Letter Books of U.S. Naval Officers, March 1778 - July 1908, National Archives and Records Administration, Washington, D.C.
RG 45, Volume 1 of 1, E-603 (54), 1-18
March 7, 1862 - April 15, 1862
Biographical information - Dictionary of American Navy Fighting Ships
Return to Union Commanding Officers' Letter Books.
Return to Civil War Home.