Civil War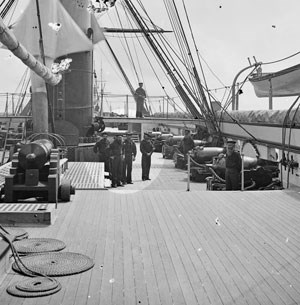 The St. Johns River has been a strategic waterway for centuries. During the Civil War, the Union blockade of Jacksonville and the St. Johns River was pivotal in maintaining a strong coastal and interior blockade of the southeast coast. The successful Union blockade of the Atlantic seaboard prevented supplies and goods from entering and leaving the Confederacy.
Florida voted to secede from the United States and to join with other Southern states in the Confederacy in 1861. Although few actual battles were fought in Florida during the Civil War, the state nonetheless played an important role for both sides in the conflict.
Learn more about the stories and daily activities of Union commanders and sailors on the St. Johns River. Transcribed from the original documents at the National Archives, these records are dramatic and detailed:
Letter Books of Commanding Officers
Want to visit Civil War sites in the Timucuan Preserve?
Mayport Mills/Fort Steele was located at the current site of the Mayport Naval Station. There are no historic remains of the village or the fort.

St. Johns Bluff is the present location of Fort Caroline National Memorial, 13 miles east of downtown Jacksonville. Occasionally, Civil War reenactments are held at the park.

Yellow Bluff Fort is located in north Jacksonville on New Berlin Road. From 9A, exit to Heckscher Drive east. Take New Berlin road south from Heckscher Drive. Yellow Bluff Fort is approximately 2 miles on the right. There is a marker and picnic tables. The site is open daily.

Pilot Town was located on the north side of the St. Johns River along present-day Heckscher Drive and near the northern terminus of the St. Johns River Ferry.

Fort George Island and Kingsley Plantation are located off Heckscher Drive (Fla. AIA/105) just north of the ferry landing.

Cedar Point is located at the south end of Black Hammock Island and can be reached from Heckscher Drive. Take New Berlin Road to Cedar Point Road which ends at the park in 7 miles.

The Maple Leaf Shipwreck
The Civil War on Fort George and Batton Islands

Return to History and Culture.
Last updated: July 6, 2023