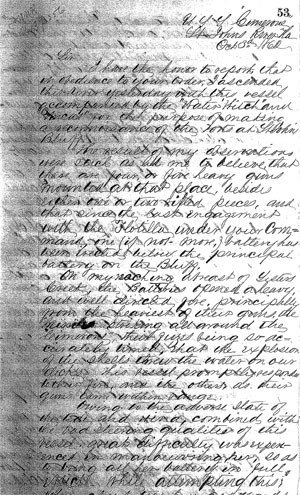 Letters from commanders stationed on the gunboats reveal the challenges faced by Union sailors and their vessels on the St. Johns River in 1862. The men and boats were subject to the harsh conditions of war. Shell and shot rained upon them during battle, raking them for hours on end. Daily missions included patrol, search, seizure, and often skirmishes with the enemy.
Commanders managed to fight a war with limited supplies, vessels in need of repair, and a growing number of refugees seeking the protection of the United States government. These Union accounts offer first-hand perspectives into the Civil War in the areas now known as the Timucuan Ecological and Historic Preserve in Jacksonville, Florida.
Commanders' Letter Books (chronological order by arrival at St. Johns River):
Christopher Raymond Perry Rodgers, Flagship Wabash
Thomas Holdup Stevens, USS Ottawa
Daniel Ammen, USS Seneca
Maxwell Woodhull, USS Cimerone
This is an ongoing transcription project. Documents will be uploaded as completed.
Return to Civil War Home.