Date:
February 2, 2010
Contact:
Eileen Andes, 701-623-4466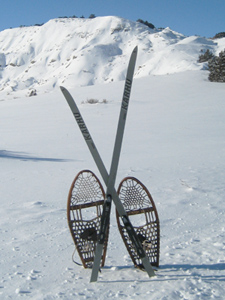 Adventurous visitors will have the opportunity to get outdoors for some fresh air and exercise on three Saturdays in February, when park rangers lead guided snowshoe and cross country ski treks in the North Unit of Theodore Roosevelt National Park. The special programs will be held on February 6, 13, and 20 at 1 pm CST. The 90 minute activities will focus on the winter landscape and the ways that wildlife has adapted to winter in the badlands.
"The North Unit is beautiful in winter, but many people do not think about venturing out in the park this time of year," said Superintendent Valerie Naylor. "This is a great opportunity to see the park with a ranger while it's quiet and snow covered."
For thousands of years, people have used snowshoes and skis as a means of winter travel. These activities are excellent opportunities for beginning and casual snowshoe walkers and cross country skiers to experience the pleasure of a winter trek in the company of others.  Participants should meet at the North Unit Visitor Center and will need to provide their own cross country skis or snowshoes. Be sure to wear warm layered clothing and bring sunscreen, water, and a snack.
If extreme weather is forecast, activities may be cancelled. Please call the North Unit Visitor Center at 701-842-2333 for additional information and current weather conditions.
-NPS-