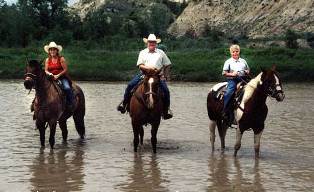 News Release Date:
May 23, 2014
Contact: Eileen Andes, 701-623-4466
Summer trail rides will begin in Theodore Roosevelt National Park on Saturday, May 24.Shadow Country Outfitters, the park's only concessioner, runs the popular horseback riding operation from the historic Peaceful Valley Ranch.The first ride of the season is scheduled for 10:00 a.m. MDT.
"Trail rides are a great way to appreciate the badlands the way Theodore Roosevelt did– on horseback," said Superintendent Valerie Naylor. "You can see much more from the back of a horse than from inside a car."
Riders must be at least 7 years old, 54 inches tall, and weigh no more than 240 pounds. Lessons are given before each ride. Please arrive 30 minutes prior to the scheduled start of the ride. Basic rides are 1½ hours long and will travel along one of several trails within the park.The difficulty of the ride will depend upon the skill of the riders.
Groups of eight people or more should call ahead for a reservation at 701-623-4568.
Peaceful Valley Ranch is located in the heart of Theodore Roosevelt National Park. Allow 25 to 30 minutes for the drive into the park.For more details and a complete schedule of trail rides, visit the Shadow Country Outfitters website at www.ctctel.com/peacefulvalley.
Theodore Roosevelt National Park is on social media! Follow us on Twitter @TRooseveltNPS and "like" us on our Facebook fan page at www.facebook.com/TheodoreRooseveltNationalPark.
-NPS-