Theodore Roosevelt National Park to Implement Fee Increase
Date:
January 28, 2015
Contact:
Eileen Andes, 701-623-4466
Contact:
Dean Wykoff, 701-623-4466
MEDORA, ND: Theodore Roosevelt National Park has received approval to implement proposed entrance and campground fee increases beginning February 1. In order to lessen the impact of the fee increases, the park chose to phase the changes in over three years.
The park received 29 responses during the open comment period for the proposed fee increases;the majority were in favor of the changes. Acting Superintendent Wendy Ross stated, "It is important that our national parks remain affordable and accessible to everyone. We were encouraged by the public response supporting the need for higher fees. The additional funds will be used where they were generated to benefit park visitors and improve facilities." 
Federal law requires that recreational fees charged on public lands be used for direct visitor benefits. In recent years, projects funded by recreational fees have included printing the park's Visitor Guide, producing the award winning orientation film, and maintaining campgrounds and trails. A park-wide project to design and install new wayside exhibits is currently in progress. 
The park plans to use the additional revenue from increased fees for more trail rehabilitation, visitor publications, museum exhibit improvements, public restrooms, and other projects. The National Park Service is gearing up for the 100 year anniversary of its establishment. Fee revenue will be used in the agency's mission to preserve America's treasured places and to provide enjoyment opportunities for this and future generations. 
Entrance fees are not charged to persons under 16 years of age or to holders of Access or Military Passes. Prices for the Interagency Annual ($80) and Senior ($10) Passes will not change and those passes will still be available for purchase at the park. 
The following outlines the approved fee schedule for Theodore Roosevelt National Park: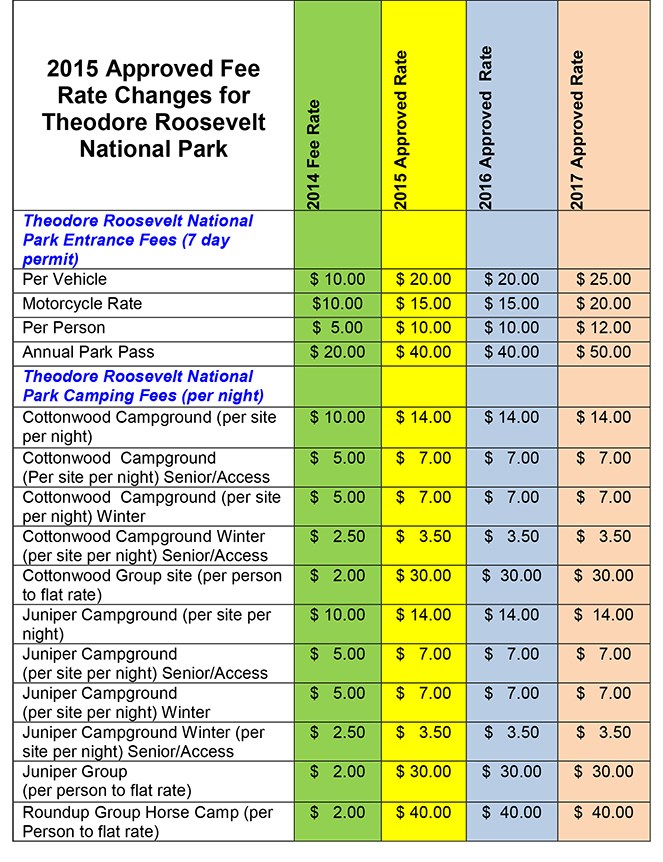 Last updated: April 10, 2015