Date:
April 9, 2010
Contact:
Bill Whitworth, 701-623-4466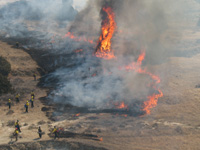 If the weather cooperates, the National Park Service plans to implement prescribed fire projects in Theodore Roosevelt National Park's South, North and Elkhorn Ranch Units. The burn units vary in size and will be conducted between April 12 and May 24, 2010. Prescribed fires are those started by park managers under specific weather and fuel conditions for a specific purpose. Air temperature, humidity, ignition sequence, fuel load, wind speed and direction are some of the many factors considered in establishing the prescription. Fire, combined with grazing by large animals, is an important tool used to protect, preserve and maintain healthy prairie ecosystems within the park.
Three burn units of varying sizes are planned to be burned at the South Unit, one 5 acre unit at the Elkhorn Ranch site, and two units totaling 800 acres at the North Unit. The majority of the burns will be conducted on open prairie with the following objectives: reduction of high hazard fuel loads, restoration of periodic fire to the landscape, to encourage native species establishment, and noxious weed control. Depending upon fire behavior and other conditions at the time, all or just a fraction of the units could be burned.
National Park Service policy stresses managing fire for resource benefit rather than just suppressing it.  Research has shown that native grassland diversity and forage quality deteriorate when fire is excluded from fire dependent systems for extended periods.  Fires of appropriate intensity transform dead plant material into soil nutrients and increase the amount of nitrogen fixing microorganisms, encouraging plant and animal diversity across the landscape. The wide variety of plants and animals people expect to see in national parks is partially the result of past fire activity.  Burns units contain study plots that, through pre- and post-burn monitoring, help park managers document and better understand the effects of fire on native and non-native vegetation.
No closures are expected to result from prescribed fire activity. Once favorable weather conditions occur, specific dates will be identified. On the day of a burn local fire departments and law enforcement agencies will be notified, and signs will be placed along the road and park visitor centers notifying the public of the burn. Assistance from federal land management agencies and National Park Service units from North and South Dakota will be utilized to safely carry out the prescribed burns.
For those people with access to the Internet, an excellent source of fire information specific to Theodore Roosevelt National Park and the Northern Great Plains can be found at https://www.nps.gov/ngpfire/thro.htm.
                   --NPS--