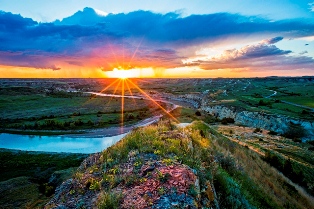 News Release Date:
December 11, 2014
Contact: Eileen Andes, 701-623-4466
Theodore Roosevelt National Park Photo Contest Winner Announced
MEDORA, ND: The National Park Serviceand the Theodore Roosevelt Nature and History Association announced the winterof the third Annual "Picture Yourself in Theodore Roosevelt National Park"Photo Contest on Saturday.
Dave Bruner of Grand Forks, ND wonFirst Prize with his scenic photo entitled, "Sunset at Wind Canyon." Bruner' sphoto will be featured on the park's 2015 Annual Park Pass, which is good for one year from the month of purchase, will be on sale starting January 1. David Schram of Puyallup, WA won Second Prize with "Badlands Dawn;" Third Prize was awarded to John Neukirch from Lincoln, NE for "Little Missouri –North Unit;" and "Painted Canyon Panorama" by Johannes Minnaar from Grand Forks, ND was the Fourth Place winner. Prizes were donated by the Theodore Roosevelt Nature and History Association,the park's non-profit cooperating association.
The park received 85 photo entries for this year's contest. The top 12 will be featured in a 2015 color calendar,which is available for purchase at the visitor center. The photos will also beon display through December 24.
Acting Superintendent, Wendy Rosscongratulated the winners and recognized the contest participants at a slideshowof the submissions on Saturday December 6, 2014. "Our annual photo contest is awonderful opportunity for photographers to share their unique vision ofTheodore Roosevelt National Park. It is striking to think about this year'ssubmissions as a collection of frozen frames, each capturing a moment of thepark's essence."
Theodore Roosevelt National Park is on social media! Follow us on Twitter @TRooseveltNPS and "like" us on our Facebook page at
www.facebook.com/TheodoreRooseveltNationalPark
.