North Unit Visitor Center
Date:
July 9, 2013
Contact:
Valerie Naylor, 701-623-4466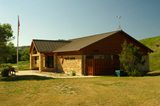 The visitor center in the North Unit of Theodore Roosevelt National Park will be closed this month, and visitor contact functions will be moved to the campground.Unprecedented rains in recent years have caused unstable badlands soils to shift and caused the building to move.
"Just like roads and major highways in the badlands, the visitor center has been shifting and sinking," said Superintendent Valerie Naylor."Badlands soils are notoriously unstable, and this is an extremely unfortunate consequence of natural processes."
Although average annual precipitation in the North Unit is less than15 inches, rainfall was 21.31 inches in 2009, 22.86 inches in 2010, 24.78 inches in 2011, and 12.29 inches in 2012.The North Unit has already received over 17 inches of precipitation in the first half of 2013.
The Visitor Center consists of 4344 square feet, including basement offices.Built in 1991, it has served visitors for over 20 years.In 2002, the building was raised, repaired, and stabilized due to shifting and settling.The building was fairly stable until 2011, when it shifted again.Interior walls are cracking and moving and the floor is buckling.It is unlikely that it can be repaired.
The National Park Service (NPS) has been monitoring the building regularly since last fall. An NPS architect and independent structural engineering firm evaluated the building in late May 2013.Although there is no immediate hazard, an extreme weather event could cause the building to shift further.
"We must move operations out of the visitor center," said Naylor."It is a beautiful building and we are deeply saddened to abandon it, but the safety of visitors and staff is our top priority."
By July 17, exhibits, book sales, and visitor information functions will move to the Camptender's Cottage at Juniper Campground.Rangers will continue to greet visitors at the park entrance station.The park will work to secure a temporary building as a visitor center and offices until a new building can be planned and built in a more stable location.
Last updated: April 10, 2015