First Teddy Bear Picnic of the Year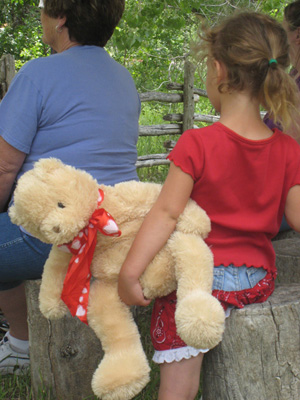 News Release Date:
July 6, 2011
Contact: Valerie Naylor, 701-623-4466
Theodore Roosevelt National Park Celebrates Teddy Bear Picnic Day
Have you ever wondered how the "Teddy Bear" got its name?The Theodore Roosevelt Nature and History Association (TRNHA) will host a Teddy Bear Picnic on Sunday, July 10 at 1:00 p.m. to celebrate National Teddy Bear Picnic Day.
Registration is at 12:45 p.m. MDT at the South Unit Visitor Center; picnic festivities will begin at 1:00 p.m.The picnic is free, though the park's regular entrance fee will be charged.
"July 10 is actually National Teddy Bear Picnic Day, so this will be fun," said Superintendent Valerie Naylor."We encourage kids and their parents to attend this light-hearted event in the park dedicated to the man who inspired the Teddy Bear."
The picnic will have a unique theme and will give children (and adults) a chance to learn about Teddy Bears and Theodore Roosevelt National Park.Children in attendance will receive a goodie bag with Teddy Bear snacks and an opportunity to win great prizes!There will also be a visit by a very special surprise guest.
"It's always great fun to see how Teddy Bears bring out the kid in all of us," said Jane Muggli, TRNHA Executive Director."We love hosting this picnic in the park."
Another Teddy Bear Picnic will be held on August 10.For further information, call the Theodore Roosevelt Nature and History Association, the park's non-profit partner, at 701-623-4884 or visit the website at www.trnha.org.
-NPS-
Last updated: April 10, 2015