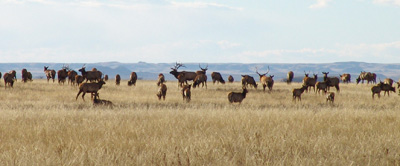 News Release Date:
December 11, 2010
Contact: Eileen Andes, 701-623-4466
The elk reduction effort in Theodore Roosevelt National Park has reached the halfway mark for the season. To date, 200 elk have been removed from the park. The goal is to remove at least 275 elk from the population by the time the program is finished on January 20.
Teams of up to four volunteers, led by park staff, have been shooting elk in the park since November 1 to reduce the population. During the first 6 weeks of the program, 105 volunteers participated in field activities. Most of the volunteers have been from North Dakota, Minnesota, and Wisconsin, but others have come from as far away as Alabama and California.
"The elk reduction has exceeded all of our expectations," said Superintendent Valerie Naylor. "The volunteers have been very professional and have done a great job of working with their team leaders to safely shoot the elk, take biological samples, and in many cases, pack the elk out of the backcountry."
So far, 11,846 pounds of elk meat have been donated to North Dakota American Indian Tribes and 4,578 pounds of meat have been donated to Sportsmen Against Hunger for food pantries throughout the state. The remaining elk meat was transferred to the North Dakota Game and Fish Department for donation back to the volunteers who assisted with the elk reduction effort.
"We are very pleased that we have been able to donate almost 12,000 pounds of meat to Tribes," said Naylor. "The elk meat has been used by the Tribes in a variety of programs including diabetes programs, elderly programs, drop-in shelters, and food pantries. In addition, Sportsmen Against Hunger has been providing elk meat to food pantries throughout the State of North Dakota."
All elk removed from the park have been tested for chronic wasting disease. All tests have been negative.
Backcountry areas and hiking trails in the South Unit of Theodore Roosevelt National Park are closed on Tuesdays, Wednesdays and Thursdays until January 20 for safety reasons during the park's elk reduction effort. The North Unit and Elkhorn Ranch Unit are not affected by the elk reduction action.

-NPS-