Annual Bird Count to be Held at Theodore Roosevelt National Park
Date:
December 13, 2010
Contact:
Eileen Andes, 701-623-4466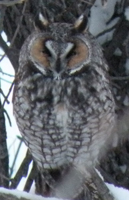 Theodore Roosevelt National Park welcomes volunteers to participate in the nationwide Audubon Christmas Bird Count on December 19 and 20, 2010.  

The Medora Area Count will take place on Sunday, December 19. Volunteers wishing to take part should meet at the South Unit Visitor Center at 8:00 a.m. MST on Sunday. The North Unit Count will be held on Monday, December 20. Volunteers should meet at the North Unit Visitor Center at 9:00 a.m. CST.

Volunteers will be assigned to groups and survey areas before they go into the field. Participants arriving later in the day should call in advance for guidance.

The annual event, now in its 111th year, is the world's longest-running citizen science event. Information gathered during the CBC helps scientists learn more about how birds are faring throughout North America.  

"The bird count is enjoyable for those new to birding as well as experienced birders," said Superintendent Valerie Naylor. "Everyone is encouraged to participate. Beginners can learn from experienced birders and those keeping annual bird checklists can add onto them. This is a fun winter event, and we hope many people will join us."

The areas to be covered encompass a 7 ½-mile radius around Medora, North Dakota and a 7 ½- mile radius from the North Unit Visitor Center. Observers will work in teams to drive and walk these 177-square-mile areas to observe and record bird sightings. This will be the 34th year for the Medora Count and 29th year for the North Unit area. A total of 67 species have been sighted during the Medora Counts and 60 species for the North Unit Counts, including many species that can only be found here in the winter.

Birders need to bring their own binoculars and warm clothing. Hot drinks will be provided at the park visitor centers. The event is free courtesy of the Theodore Roosevelt Nature and History Association, the park's non-profit partner organization. For further information, contact the park at 701-623-4466.  



-NPS-

Last updated: April 10, 2015