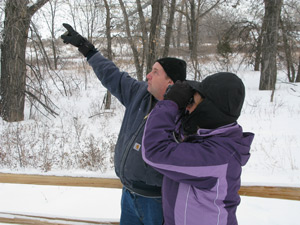 News Release Date:
January 6, 2010
Contact: Eileen Andes, 701-623-4466
Despite falling snow and cold temperatures, 20 people from 5 states and several cities in North Dakota participated in the annual Audubon Christmas Bird Counts on January 2-3 at Theodore Roosevelt National Park.
The Medora area count was held on January 2.  Participants came from Montana, Minnesota, Wisconsin, and Michigan as well as the cities of Medora, Dickinson, Halliday, and Bismarck.
One highlight of the Medora count was a long-eared owl in the park's South Unit, a species never before recorded on the Christmas Bird Count.  Twenty-one species and 339 total birds were recorded.
"We were pleased to have so many volunteers from so many different places count birds this year," said Superintendent Valerie Naylor, the count's compiler.  "Due to conditions, we did not see as many birds as we sometimes do, but it was a great day afield."
Deep snows in and around the park's North Unit on January 3 restricted travel to some extent, but 6 hardy observers saw 9 species of birds, including woodpeckers, grouse, and eagles.
Each count includes a circle with a 15 mile diameter.  Volunteer participants count all birds found within the circle.
The annual event, now in its 110th year, is the world's longest-running citizen science event.  Information gathered during the CBC helps scientists learn more about how birds are faring throughout North America.  This was the 34th year for the Medora Count and 29th year for the North Unit area
Volunteers contributed 125 hours for the bird counts, and covered 361 miles of roads and trails.
"All of our dedicated and skilled volunteers contributed to the success of the event," said Park Ranger Nathan King, one of the count organizers.  "We greatly appreciated their time and effort."
[photos available]
-NPS-