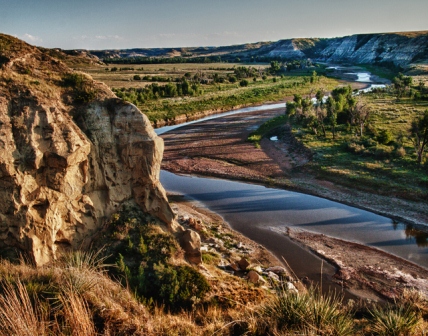 News Release Date:
December 2, 2013
Contact: Eileen Andes, 701-623-4466
The National Park Service and the Theodore Roosevelt Nature and History Association are pleased to announce that the winning photo has been selected for the annual "Picture Yourself in Theodore Roosevelt National Park" photo contest.The winner will be announced during Medora's 18th Annual Old Fashioned Cowboy Christmas festivities on Saturday, December 7 at 2:00 p.m. MST in the park's South Unit Visitor Center.
The winning photo, which will be featured on the 2014 Theodore Roosevelt National Park Annual Pass, was selected from a group of 12 finalists. Those photos will be on display in the South Unit Visitor Center throughout the weekend.They will also be featured in a 2014 calendar, which will be available for purchase following the awards ceremony.Finalists will receive a signed certificate of appreciation from the park superintendent; the top four will receive prizes donated by the Theodore Roosevelt Nature and History Association.