Rivers and Streams
"The stream twists down through the valley in long sweeps, leaving oval wooded bottoms first one side and then on the other."
Theodore Roosevelt
The Little Missouri River is a key feature of all three units of Theodore Roosevelt National Park. In the semi-arid environment of the badlands, the power of the river to shape the landscape and to sustain life underscore its importance.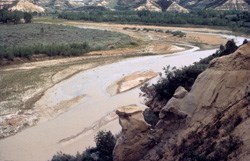 The ever-changing Little Missouri River varies from a muddy trickle to a raging flood to a frozen highway at different times of the year. As the river carves through the soft clay of the badlands, it cuts away at its banks, constantly changing shape as it snakes northward to the Missouri River.
The Little Missouri River supports a wide variety of plants and animals. Beavers, catfish, minnows, a variety of ducks and geese, and occasionally bald eagles and white pelicans utilize the river. The Little Missouri River represents the only aquatic environment in the park that can support fish. Many of the park's large animals, such as bison, wild horses, and deer, find water in the river.
The flat lands adjacent to the Little Missouri River are part of its floodplain. These areas that occasionally flood are a unique habitat type in the park consisting of large cottonwood groves and meadows. See
Floodplains
for more information.
Some popular visitor activities on the Little Missouri River include
float trips
,
fishing
, and
wildlife viewing
. Great places to view the river include the Wind Canyon Overlook in the South Unit, and the River Bend Overlook and Oxbow Bend Overlook at the North Unit.
A number of small creeks also cut through the badlands. These streams feed rain and melting snow into the Little Missouri River. Creeks may flow with water from storms, but can often be completely dry. The channels allow plants that need relatively more water to survive in the narrow channels, and provide wildlife with an often temporary source of drinking water. The occasional mud makes for a great opportunity to find animal tracks, a record of the recent wild visitors to the area.
Last updated: April 10, 2015