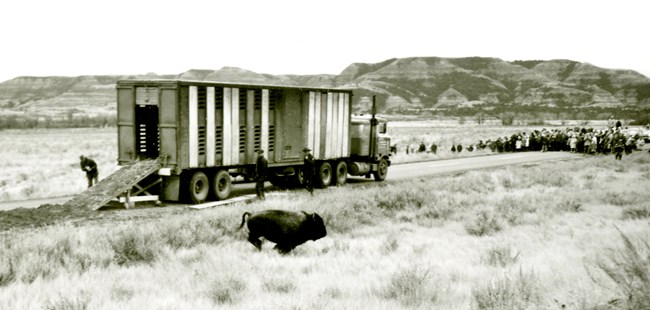 Bison are one of this country's great symbols for wildlife and land conservation. Once numbering in the tens of millions, they were nearly driven extinct by the end of the 19th century due to rampant overhunting. Had it not been for the concern of early conservationists and ranchers, including Theodore Roosevelt, they may have been lost forever. Today, due to protection and reintroduction efforts, their numbers have rebounded from just a few hundred to around 30,000 in conservation herds (around 500,000 others exist on commercial ranches).
There were no bison in the park when it was founded in 1947. They arrived nine years later, when 24 females and 5 males were brought to the South Unit from Fort Niobrara National Wildlife Refuge in Nebraska. Among those 29 founders were descendants of bison captured in the 1880s from Texas to Yellowstone to Saskatchewan Province. Six years later, 20 bison from the South Unit were relocated to found the North Unit herd.
Bison are well adapted to deal with the harsh North Dakota climate and have thrived inside park boundaries. However, like the bison, wolves and grizzly bears were driven locally extinct during the 1800s—unlike the bison, they were never reintroduced. Without natural predators, bison populations increase over time, straining the park's limited grazing resources. Based on the needs of bison and available resources, park biologists have set target herd sizes: 200-500 bison in the South Unit, and 100-300 in the smaller North Unit. To maintain a balanced ecosystem without natural predators, humans must take an active role in managing bison populations.