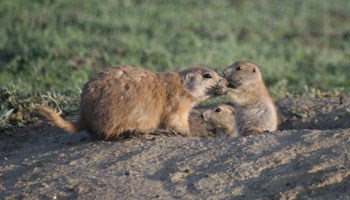 Furry Friends
Animals are grouped in a class by their common traits. All mammals share these features:
they have fur or hair on their bodies

they are warm-blooded

they produce milk for their young

they have lungs and breathe air

and they have a backbone
If you were keeping track, you might have noticed that humans have all of those features. That means we are mammals! Mammals can be all shapes and sizes. At Theodore Roosevelt National Park, we have tiny chipmunks which could fit in your hand, and we have the largest mammal in North America: the bison! One of the coolest mammals you can see in the park is the black-tailed prairie dog.