Learning and Exploration in TRNP
Theodore Roosevelt National Park serves as a formal and informal classroom for anyone with a curious mind. Prairie ecology, human triumph and tragedy, and Great Plains geology collide here, in the rugged Little Missouri Badlands. 

Students can learn about the ranching adventures of our famed Conservationist President or work to untangle the badlands' complicated web of life; Junior Rangers can learn the importance of conservation and park stewardship; and teachers can find resources to enhance in-class lessons or self-guided field trips.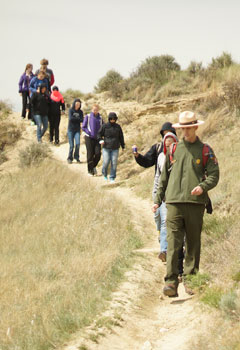 Find park-related lesson plans and activities to use in your classroom. Most lessons are designed for grades 4-6, but can be adapted for older or younger audiences.
Learn how to organize and lead your own field trip to the national park, or contact us for a ranger-led education program.
Our most popular and significant resource is the Maltese Cross Cabin, used by Roosevelt while he ranched here in the 1880s. Now you can explore the cabin and learn about Theodore Roosevelt's place in North Dakota history from the comfort of your own classroom!
Last updated: January 16, 2018