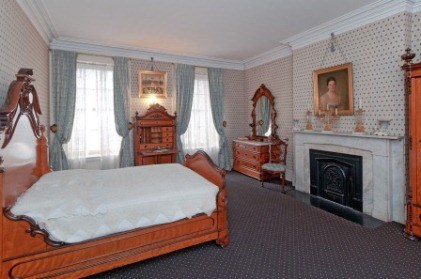 Visitors to Theodore Roosevelt Birthplace can:
View an introductory film on the early life of Theodore Roosevelt. This 25 minute film encapsulates the physical and emotional struggles that young 'Teedie' endured while growing up in a priviledged Victorian-Era New York home. It provides an excellent foundation for visitors planning to visit the period rooms.
Visit the exhibit galleries which contain a wealth of artifacts and memorabilia from throughout Theodore Roosevelt's life, such as, examples of his childhood taxidermy specimens, his Rough Rider uniform, and the bullet-pierced eyeglass case which helped save his life during an assassination attempt.
Join a guided tour of the five historically furnished rooms including many family owned items. Click here for more info.
Join us for Roosevelt-related, periodic special events. To learn more, see our event calendar.
Visit our bookstore that offers a wide array of Roosevelt-themed books and memorabilia.
Collect a set of 150th Anniversary Civil War Trading Cards.