Mittie, Thee, and the North/South Divide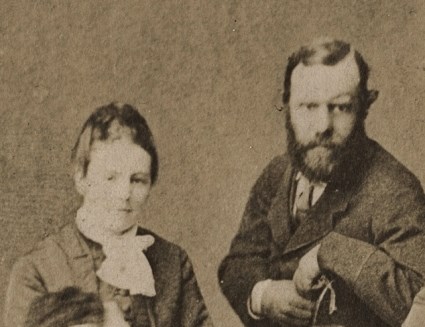 Although Theodore Roosevelt was born and raised in New York City, his family was directly tied to both sides of the Civil War. Theodore's father , Theodore, Sr., or 'Thee', came from a line of prominent, New York- born merchants who supported the Union cause. Conversely, TR's mother, Martha Bulloch Roosevelt, or "Mittie", grew up in Roswell, Georgia, and was a fervent Confederate. Despite the sharp contrast between Thee and Mittie's views of the war, their ideological differences served neither as a serious source of tension nor a divisive force within the family.
Thee's ardent support for the Union led him to advance numerous programs and policies to assist the war effort. Thee was a Charter Member of the Union League Club of New York, a social organization founded upon the principles of strengthening respect for the Union and support for its preservation. The Union League raised money to for food and supplies for the Union forces, and in 1864 even subsidized a full Thanksgiving dinner for the entire Army of the Potomac.
Theodore Sr.'s efforts continued as he lobbied for legislation to prevent price gouging on sales to Union forces. He also successfully campaigned for the institution of an Allotment System, whereby a portion of soldiers' pay could be forwarded to their families to allay some of the financial difficulties presented by their absence. After the program's implementation, Thee was named a New York Allotment Commissioner, and would later, at his own expense, tour all New York divisions of the Army of the Potomac to explain and promote the system.
Despite his staunch support for the Union cause, Thee hired a replacement to serve his draft obligation. This decision was never seriously questioned by his family or contemporaries as it was a common practice among members of high society. Many feel that Thee did this as a courtesy to Mittie, not wanting to take arms against her Confederate family members. Others suggest that Thee was a draft dodger. However, it is evident that his time as a soldier would have contributed less to the Union's success than the accumulative effects of his numerous programs.
Meanwhile, as Theodore, Sr. was traveling on behalf of the Union cause, Mittie was initiating efforts to support the Confederate forces. Mittie frequently sent care packages of medicine and supplies as well as food and clothing through Confederate agents in New York. It has even been rumored that Mittie once hung a Confederate flag from the Master Bedroom of the Roosevelt home.
Mittie's brothers were Confederate soldiers: James Bulloch, a Confederate officer in England, and Irvine Bulloch, the youngest officer on the CSS Alabama. Mittie's close relationship to the Confederate army further contrasts with Thee's Union support. Despite the theory that Theodore Sr. avoided fighting as a courtesy to his wife, Southerners regarded hiring replacements as disgraceful. None of the Bulloch men stayed home during the war, and the women became involved as well. The deviation of Thee's nonparticipation from the Bulloch's war experience is thought to have served as an impetus to Theodore's later devotion to hunting and other dangerous adventures.
The differing ideological viewpoints of Mittie and Thee were not destructive to the Roosevelt family unity, but rather created a unique harmony of Northern and Southern ideals. This balance, fostered by parental differences, led Theodore to describe his childhood as "the happiest home life of any man". What could be regarded as a potentially lethal force to any sort of familial togetherness ultimately inspired Theodore Roosevelt's ascent to excellence as a national icon who both advanced and embodied the principles of toleration, bravery, duty, and honor.

Click here to go back to more stories.
Click here to learn about family members and people who influenced Theodore Roosevelt Jr.
Last updated: August 15, 2019