Untitled Cartoon by Bristol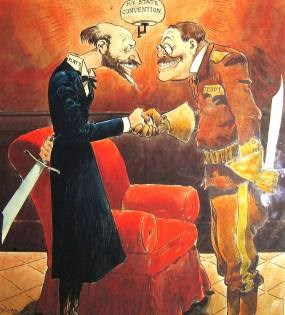 This political cartoon from Judge Magazine, drawn by Bristol, illustrates the reluctant partnership formed between Theodore Roosevelt and Thomas Platt to maintain Republican power over New York State politics in 1898.
Platt was a US Senator but most importantly the Republican Party "boss" of the State of New York. He needed a popular Republican to maintain a hold on New York politics. Teddy Roosevelt fit the bill as he was popular for his Rough Rider experiences in the Spanish-American War. Although wary of Theodore Roosevelt's reputation as a reformer, Platt decided that Roosevelt as a Republican in the New York Governor's seat was still better than a Democrat.
Roosevelt was most likely just as concerned with Platt's reputation of power mongering and 'business as usual' politics. Appropriately, the artist drew the two men shaking hands, underneath the glow of the NY State Convention, with swords behind their backs, as they stand over the Governor's chair.
Last updated: February 26, 2015