THING TO DO
Hike to Owachomo Bridge

Once named "Little Bridge," Owachomo Bridge is the smallest natural bridge in the park. Its thin structure suggests that Owachomo may also be the oldest. Hiking to Owachomo provides a rare peek into the monument's history.
Length Roundtrip: 0.5 miles (0.84 kilometers)
Elevation Change One-way (from Rim to Base): 188 feet (57.3 meters) loss
All ages, but minors should be with an adult parent or guardian.
Park entry fees are required.
Location
Owachomo Bridge parking area
Directions from Natural Bridges Visitor Center: Out of the visitor center parking lot, turn right at the stop sign. Follow the driving loop approximately 7 miles (11 kilometers) until you see the sign and parking area for Owachomo Bridge.
Spring and Fall: Suggested visiting time is spring and fall.
Summer: Summer temperatures often reach 100°F (38°C).
Winter: If snow and/or ice is present, snow cleats, crampons, and/or hiking poles are highly recommended. Because it is in the sun for much of the day, this trail usually clears of ice and snow fairly quickly during sunny days. Always check conditions before hiking in winter.
The more adventurous can hike to Owachomo Bridge after dark for stargazing. Be prepared with warm layers and a flashlight.
Accessibility Information
Service animals are allowed on this trail.
This is a primitive trail. This trail is not wheelchair accessible. Audio recordings of the posted signage are not available. There is uncertain footing in places. Stay clear of the sides of the canyon; although they are not sheer, they can be steep.
The trail declines 188 feet (57.3 meters) to the base of the bridge using wooden and rock stairs. Total trail length (round trip) is 0.5 miles (0.84 meters). This trail may be difficult for individuals with mobility impairments.
The nearest restroom is a pit toilet located at the Kachina Bridge parking area. There are flush toilets outside the visitor center. The nearest water is available at the visitor center.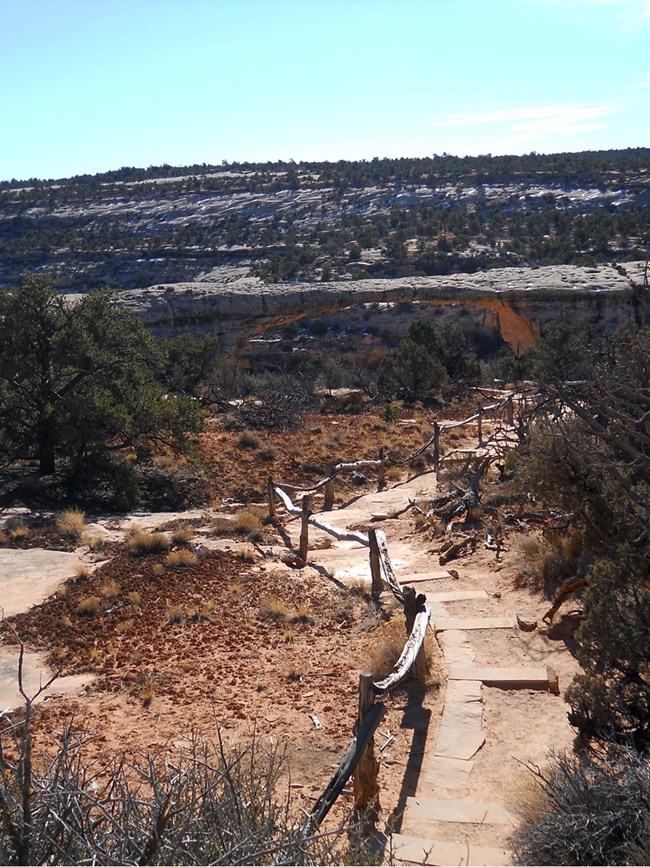 Getting There
Start at the Owachomo Bridge parking area and follow the unpaved bridge trail to the bridge's base, 0.26 miles (0.42 kilometers) one-way. The trail descends 188 feet (57.3 meters) from the canyon rim to the base of Owachomo Bridge. Be prepared to traverse wooden and rock stairs. Those looking for a shorter trail should consider walking to the Owachomo Bridge Viewpoint.
Special Features
The area opposite Owachomo Bridge was once the park's entrance. The first visitor center, a fortified canvas tent, was perched on the flat area across from the bridge's base. From there, Zeke Johnson, the park's first custodian, would take hardy visitors on tours of the bridges. The large pool below the bridge is known as Zeke's bathtub, although bathing in it now is against park regulations. As you stand beneath what may be the oldest natural bridge in the park, take a moment to reflect on the area's rich natural and human history.
Last updated: September 28, 2018