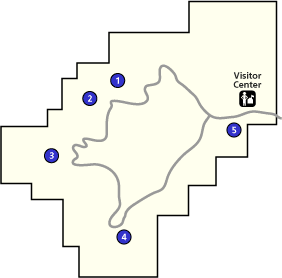 1. Sipapu Bridge
2. Horse Collar Ruin
3. Kachina Bridge
4. Owachomo Bridge
5. Solar Power System
The main features of Natural Bridges are shown on the map. Most visitors spend at least two to three hours exploring the area. Plan on stopping at the visitor center and touring the scenic drive, with stops at each overlook to view the bridges. Several short hikes allow closer inspection of these remarkable formations, as well as Horsecollar Ruin.