THING TO DO
Walk to the Owachomo Bridge Viewpoint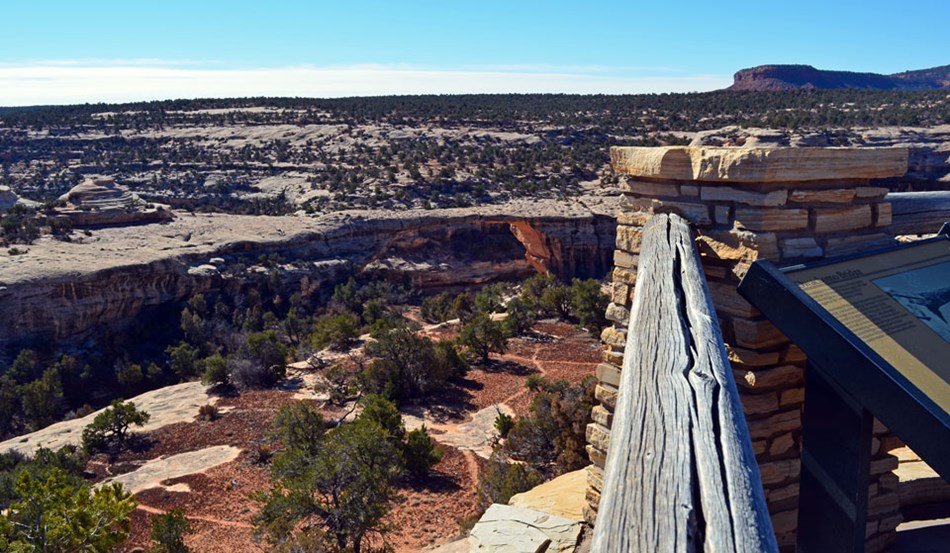 Owachomo Bridge is the smallest, and probably oldest, natural bridge in the park. From the viewpoint, you can see the bridge's delicate span and surrounding landscape. You can also see the large rock mound on the left side that the bridge was named for - Owachomo is a Hopi word for "rock mound."
Length Roundtrip: 519 feet (158.19 meters)
Elevation Change One-way (from Parking Lot to Viewpoint): 8.67 feet (2.64 meters) loss, 0 feet (0 meters) gain
Getting There
Start at the Owachomo Bridge parking area and follow the (mostly flat) paved trail 259.5 feet (79.10 meters) to the overlook. A bench is near the beginning of the trail.
For an easy hike, take the unpaved trail to the base of Owachomo Bridge.
Special Features
Below the viewpoint, notice the dark layer of biological soil crust carpeting the ground. This top layer of soil holds moisture, giving life to this arid environment. Do you see the interwoven trails in the soil crust? Deer follow these narrow trails to navigate the canyons and don't damage much soil crust. In contrast, look at the dusty, tan soil lining the trail. When visitors step off trail, they crush the fragile soil crust, which takes decades to grow back. Please stay on trail at all times and help us protect the park!
10 minutes minimum, depending how long you stay at the viewpoint.
All ages, but minors should be with an adult parent or guardian.
Park entry fees are required.
Location
Owachomo Bridge Parking Area
Directions from Natural Bridges Visitor Center: Out of the visitor center parking lot, turn right at the stop sign. Follow the driving loop approximately 6.89 miles (11.10 kilometers) until you see the sign and parking for the Owachomo Bridge.
All seasons – Suggested visiting time is spring and fall. Summer temperatures often reach 100°F (38°C), and the trail provides no shade. Winter snow and ice may make the paved walkway slippery. If snow and/or ice are present, snow cleats, crampons, and/or poles are recommended.
After sunset, Owachomo Bridge is not visible from the viewpoint, but you can stargaze here at night.
Accessibility Information
Service animals are allowed on this trail.
The Owachomo Bridge Viewpoint trail is paved sidewalk. The trail elevation declines 8.67 feet (2.64 meters) to the overlook. Total trail length (round trip) is 519 feet or about 173 yards (158.19 meters). There is a bench near the beginning of the trail. There is no shade. Audio recordings of the posted signage are not available.
The nearest restrooms are flush toilets located outside the visitor center and a pit toilet located at the Kachina Bridge parking area. The nearest water is available at the visitor center.
Last updated: September 28, 2018