THING TO DO
Lake Solitude

Lake Solitude is a strenuous hike with 2,500ft of elevation gain. Lake Solitude is accessible via the Jenny Lake Loop Trail (20 m/32 km RT) or by taking the shuttle boat to shorten the hike (14.2 m/22.5 km RT). If you are planning on using the shuttle boat, check their 
hours and prices
. Tickets are purchased directly at the boat dock. 
A 
general fee
 is charged to enter Grand Teton National Park.
Park at Jenny Lake for access to the Lake Solitude Trail.
Permits are required for those planning to stay overnight in the backcountry. Visit the 
backcountry page
 to learn about obtaining a permit.
Lake Solitude is best accessed in summer after the snow melts, and in fall before the first snow arrives. Hikers should use caution when traveling over snow and not attempt Lake Solitude unless they have previous snow experience and the proper equipment.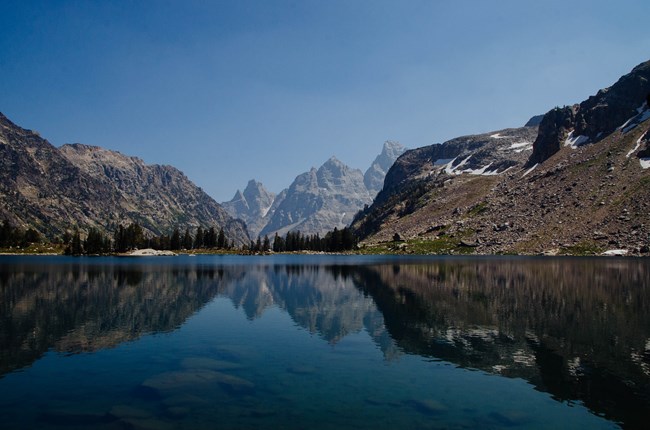 This popular Teton hike offers views of the surrounding peaks, alpine lakes, and ample wildlife viewing opportunities. Starting from the Jenny Lake Trailhead, visitors can hike around the south end of Jenny Lake or take a shuttle boat across for access to Cascade Canyon. Once in the canyon, follow the relatively flat trail to the Forks of Cascade Canyon. At the trail junction, take a right, following the signs for Lake Solitude. Hikers will climb about 1,500ft over the next 2.7 miles to arrive at Lake Solitude. From here, hikers may turn around to make this an out-and-back day hike. The trail does continue from Lake Solitude however, passing over Paintbrush Divide and down Paintbrush Canyon. Those planning to complete the
Paintbrush-Cascade Loop
should stop by the
Jenny Lake Ranger Station
to speak with a ranger about conditions on Paintbrush Divide, as the divide often holds snow until mid-July and can be dangerous if attempted without the proper snow equipment.
Last updated: October 16, 2019