Thing to Do
Hike the Rift Zone Trail to the Vedanta Society Retreat Access Road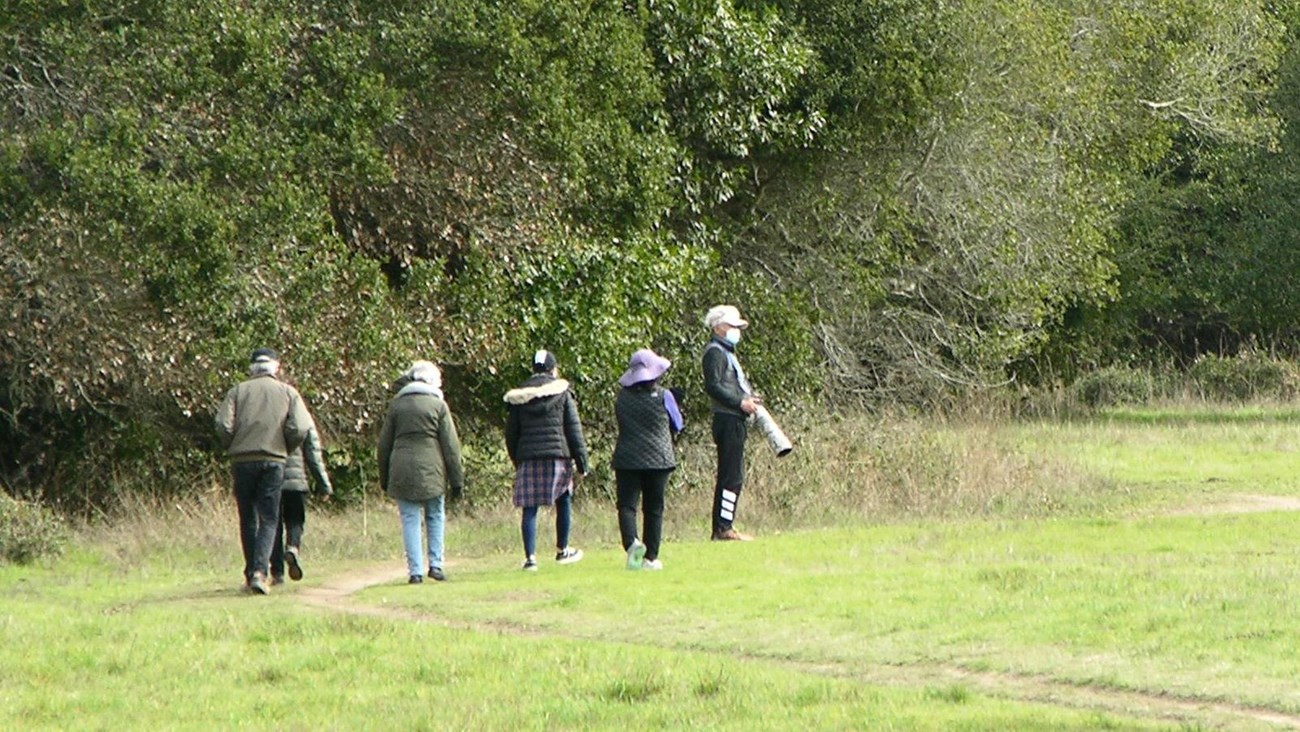 Distance: 2 miles (3.2 km) roundtrip
Explore a section of the floor of a valley that follows the San Andreas Fault, passing through meadows and over a stream. Evidence of former earthquakes is rather subtle—coming in the form of diverted streams and shutter ridges—that most visitors overlook. One will only find a fresh scar on the surface of the ground if there has been a large earthquake recently; the last one was on April 18, 1906.
Start the Bear Valley Trailhead.
From the southwestern corner of the Bear Valley Trailhead, the Rift Zone Trail heads east through a meadow for 0.3 miles (0.5 km) before crossing a bridge over the tree-lined Bear Valley Creek. Those paying attention may notice that the creek is deflected by a low ridge just upstream from this location—one of the first indications one will encounter of the valley's seismic history. After crossing the bridge, the trail climbs up and over a partially wooded shutter ridge and then crosses through another meadow, which, until relatively recently, served as a cattle pasture.
After another 0.5 miles (0.8 km) [0.8 miles (1.3 km) from Bear Valley], the trail crosses the access road for the Vedanta Society Retreat. Many hikers turn around here. Many hikers turn around at the road, but the Rift Zone Trail continues south for another 3.3 miles (5.3 km). Visit our Hike the Rift Zone Trail page for information about hiking further along the trail.
The trail beyond this access road is only open to the general public from 8 am until 2 hours before sunset. If you continue, please be sure to close any gates you pass through. South of the road, the trail passes through private property for the next couple miles (few kilometers); please treat both the private land and public park lands with respect and practice Leave No Trace principles. Take only pictures and leave only footprints.
This route description alone is not a substitute for a trail map. Print out the park's Bear Valley Area Map (427 KB PDF) and South District trail map (3,422 KB PDF) before your visit, or pick up the trail map at a visitor center on your way.
Always check current conditions before heading out into the park and familiarize yourself with park regulations. Please practice Leave No Trace principles.
Visit the park's Hiking at Point Reyes National Seashore page for hiking tips and information about trail etiquette and safety.
Visit the park's Trail Advisories and Closures page for current information about closed trails, trails blocked by trees, or other temporary hazards or advisories.
Allow 40 to 60 minutes to hike roundtrip from the Bear Valley Trailhead to the the access road for the Vedanta Society Retreat and back.
Pets are prohibited on the Rift Zone Trail. Visit the park's Pets page to learn where pets are welcome at Point Reyes National Seashore.
Entrance fees may apply, see Fees & Passes information.
Winter
The heaviest rainfall occurs in the winter months. Come prepared for rain and drizzle to possibly last for several days. In between winter rains, it is often sunny, calm, and cool.
Spring
Most spring days are windy. Expect cool temperatures in March. By late May and early June, temperatures can be quite pleasant.
Summer
Although there is very little rain during summer months, there is often dense fog, which tends to burn off by mid-day. Afternoons are often sunny and warm to hot with a light breeze.
Fall
Point Reyes experience some of the clearest days in late September, October, and early November. The occasional storm will start rolling through in late October, bringing clouds, wind, and rain. The strongest winds occur in November and December during occasional southerly gales.
Time of Day
Day, Dawn, Dusk
Point Reyes National Seashore is open daily for day-hiking from 6 am to midnight. Overnight parking is only permitted with a valid backcountry camping permit.
The Vedanta Society property, through which the Rift Zone Trail passes if one continues beyond the Vedanta Society Retreat Access Road, is only open to the general public from 8 am until 2 hours before sunset.
Accessibility Information
The northern 0.3 miles (0.5 kilometers) of the Rift Zone Trail from the Bear Valley Trailhead is fairly flat, but narrow, only a couple feet across. The trail surface is packed dirt. As the trail progresses, it becomes narrower and rutted in places, and frequently muddy. Short sections of moderate to steep grade exist.
Last updated: August 17, 2023