Thing to Do
Hike the McClures Beach Trail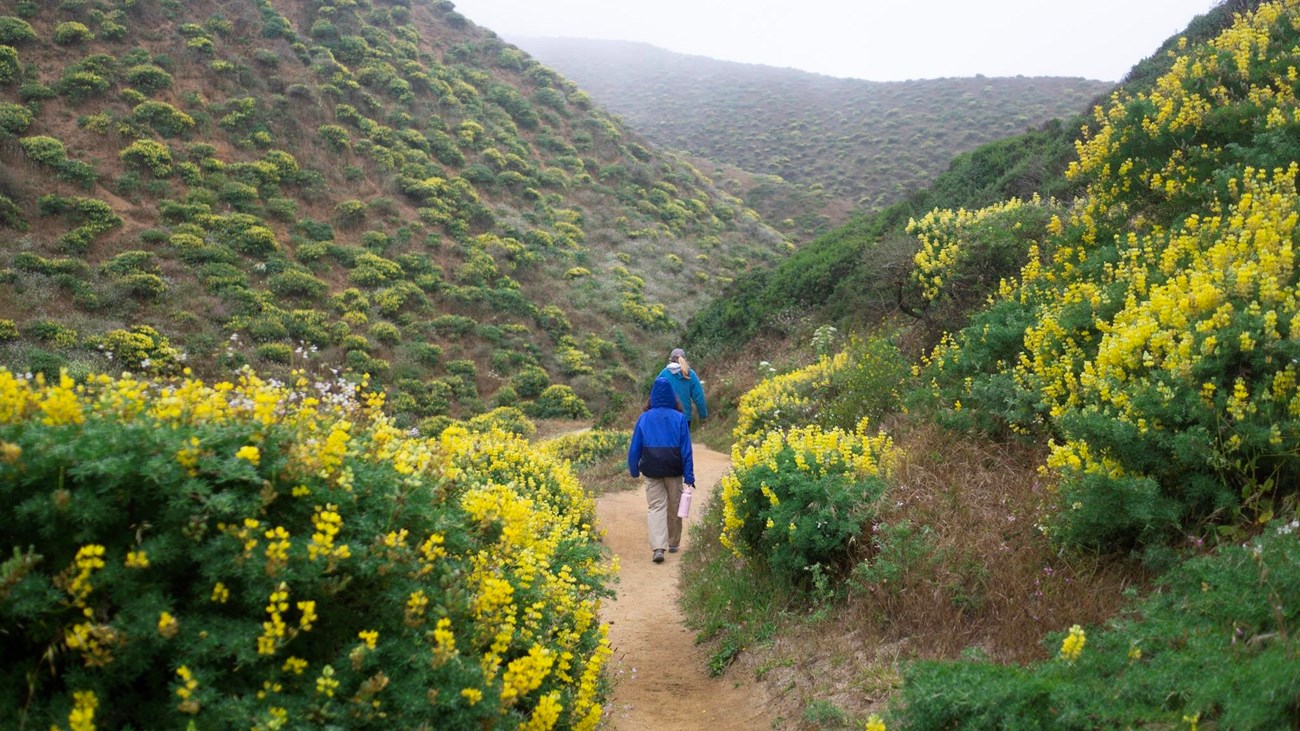 Distance: 0.8 miles (1.3 km) roundtrip
A rugged, moderately steep trail descends down a ravine to an ocean beach. McClures Beach is contained within a beautiful cove backed by rocky cliffs, but watch out for tidal fluctuations and sneaker waves. Never turn your back to the ocean. Due to the frequently large surf, this is not a beach at which it is safe to play close to the water's edge, much less to go for a swim.
The marine invertebrates growing and/or scrambling around on the intertidal rocks at either end of the beach may entice visitors to check them out. But, due to the frequently large surf, McClures Beach is not considered a safe location for tidepooling. If you do decide to risk tidepooling at McClures Beach, please follow Leave No Trace's Tips for Tide Pooling and consult a tide chart and local weather forecasts before setting out on your trip. Visit the park's Beach Safety page for more information.
This hike is mostly within the Phillip Burton Wilderness. Please practice Leave No Trace principles.
Allow 35 minutes driving time from Bear Valley to the McClures Beach Trailhead, located at the end of the Pierce Point Road, west of and below Pierce Point Ranch.
This route description alone is not a substitute for a trail map. Print out the park's Tomales Point Map (1,116 KB PDF) and North District trail map (3,409 KB PDF) before your visit, or pick one up at a visitor center on your way.
Always check current conditions before heading out into the park and familiarize yourself with park regulations.
Visit the park's Hiking at Point Reyes National Seashore page for hiking tips and information about trail etiquette and safety.
Visit the park's Trail Advisories and Closures page for current information about closed trails, trails blocked by trees, or other temporary hazards or advisories.
Visit the park's Tomales Point, Pierce Point Ranch, and the Tule Elk Reserve for more information about other points of interest and activities in the immediate vicinity.
Allow 20 to 30 minutes to hike to and from the beach. Allow for more time to explore or relax at the beach.
Pets are prohibited on the McClures Beach Trail (or anywhere else within the Tule Elk Reserve). Visit the park's Pets page to learn where pets are welcome at Point Reyes National Seashore.
Entrance fees may apply, see Fees & Passes information.
Winter
The heaviest rainfall occurs in the winter months. Come prepared for rain and drizzle to possibly last for several days. In between winter rains, it is often sunny, calm, and cool.
Spring
Most spring days are windy and McClures Beach frequently experiences strong breezes. Expect cool temperatures in March. By late May and early June, temperatures can be quite pleasant, even warm.
Summer
Although there is very little rain during summer months, there is often dense fog throughout the day in July, August and September with temperatures often 20 degrees cooler than at Bear Valley.
Fall
The coastal areas of Point Reyes experience some of the clearest days in late September, October and early November. The occasional storm will start rolling through in late October, bringing clouds, wind, and rain. The strongest winds occur in November and December during occasional southerly gales.
Accessibility Information
A moderately steep, narrow dirt trail leads downhill from the paved parking lot at the McClures Beach Trailhead. The lowest section of the trail immediately above the beach may have a steep drop-off or be washed out due to high tides undercutting the trail.
Last updated: September 12, 2022