Thing to Do
Hike the Estero Trail to Drakes Head or Sunset Beach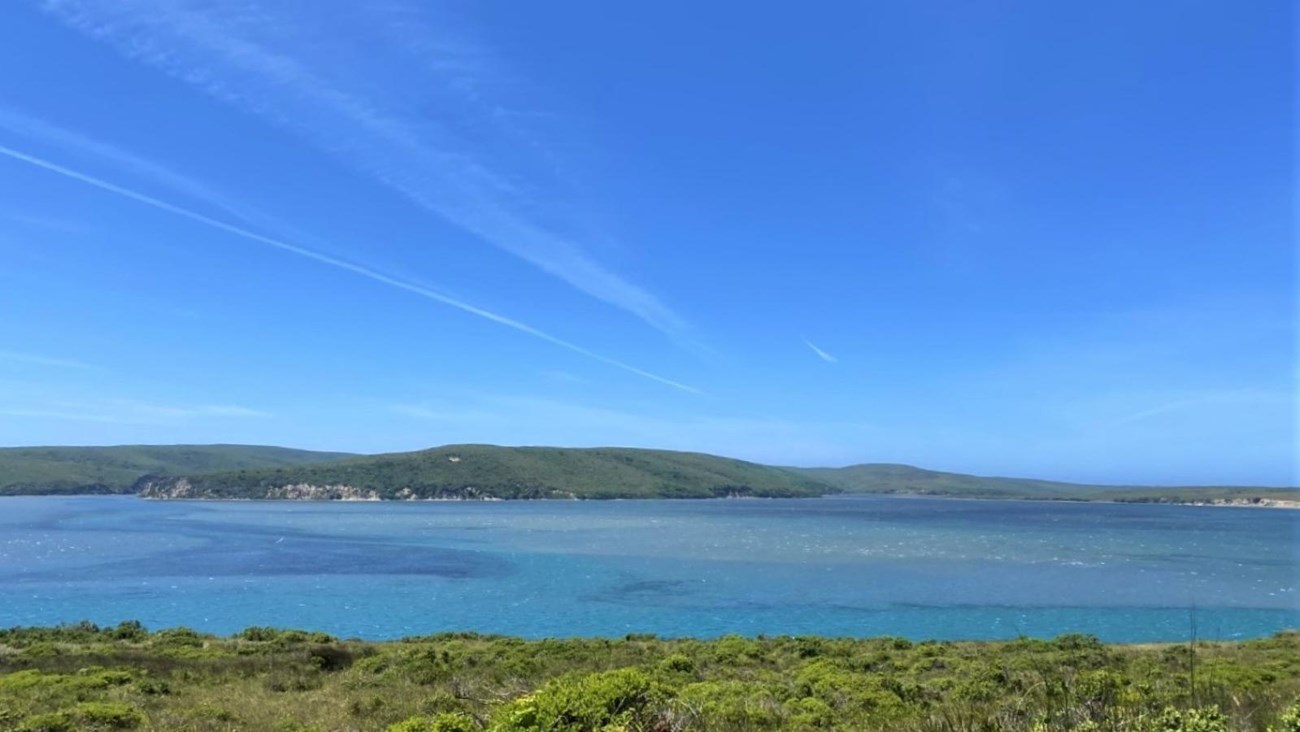 Distances:
To the footbridge: 2.4 miles (3.8 km) roundtrip
To Sunset Beach Trail Junction: 5 miles (8 km)
To Sunset Beach: 7.8 miles (12.6 km) roundtrip
To Drakes Head: 8.8 miles (14.2 km) roundtrip
This trail through grassland and cattle pastures offers outstanding views of Drakes Estero and Estero de Limantour, and the opportunity to see the diverse wildlife that call these ecosystems home.
From the Estero Trailhead at its northwestern end, the Estero Trail heads south through brush-spotted grasslands for 0.6 miles (1 km). The trail then skirts along the northern edge of an abandoned Christmas tree farm before turning south to pass among the Monterey pines. Keep your eyes and ears open for owls. After another 0.6 miles (1 km), the trail arrives at Home Bay, the head of which was dammed by ranchers to create a stock pond. More recently, the dam was breached and the trail now traverses along the crest of the earthen dam. A footbridge with benches was constructed at the location of the breach. The bridge is a great location to look for birds—egrets and herons roost and nest in the pines and shorebirds and waterfowl abound in the estero (which is Spanish for estuary). One may also observe bat rays and leopard sharks in the water below the bridge. The bridge is also a good turn-around point for those wanting a shorter hike.
From Home Bay, the trail leads up and over a couple of small ridges through pastureland. Please be respectful of grazing stock and be sure to leave gates as you find them: if they are closed, please close them after passing through. Between the ridges are valleys in which stock ponds were constructed by ranchers. These ponds attract a variety of waterfowl.
The Sunset Beach Trail branches off to the right 1.4 miles (2.3 km) south of the bridge. Some hikers turn around here for a 5-mile (8 km) round-trip hike.
Follow Sunset Beach Trail for an additional 1.4 miles (2.3 km) to get to Sunset Beach—which is arguably more of a marshy wetland, rather than a beach.
Alternatively, turn left to stay on the Estero Trail as it heads up a ridge away from Drakes Estero. The last couple sections of the route seems more like a cattle trail than a hiking trail, but persevere and look for markers to differentiate between the cattle paths and the hiking trail. After 0.6 miles (1 km), turn right on to the Drakes Head Trail at the junction of a number of fencelines adjacent to a small corral and abandoned, circular, concrete water trough. There will be abundant views of Estero de Limantour to the east as one heads south 1.3 miles (2 km) south to Drakes Head. The view looking down into the estero on a clear day is truly spectacular, with the possibility of seeing bat rays and leopard sharks swimming just below the water's surface.
If you want to continue east along the Estero Trail, you will get to explore sections of the Phillip Burton Wilderness where you may be the only hiker. The Estero Trail will sequentially intersect with White Gate Trail and Glenbrook Trail, and ultimately terminate after a total of 9.7 miles (15.5 km) along the Muddy Hollow Trail 1.5 miles (2.4 km) north of Limantour Beach.
This route description alone is not a substitute for a trail map. Print out the park's North District trail map (3,409 KB PDF) before your visit, or pick one up at a visitor center on your way.
Always check current conditions before heading out into the park and familiarize yourself with park regulations. Please practice Leave No Trace principles.
Visit the park's Hiking at Point Reyes National Seashore page for hiking tips and information about trail etiquette and safety.
Visit the park's Trail Advisories and Closures page for current information about closed trails, trails blocked by trees, or other temporary hazards or advisories.
The routes described on this page are out-and-back hikes.
Allow ~1 hour to walk to and from the footbridge at Home Bay.
Allow ~2.5 hours to hike to and from the junction of the Estero Trail and Sunset Beach Trail.
Allow ~4 hours to hike to and from Sunset Beach
Allow ~5 hours to hike to and from Drakes Head.
Allow ~6.5 hours to hike to and from both Drakes Head and Sunset Beach.
Allow for more time to watch for birds and other wildlife or to botanize.
Pets are prohibited on the Estero Trail and Sunset Beach Trail. Visit the park's Pets page to learn where pets are welcome at Point Reyes National Seashore.
Entrance fees may apply, see Fees & Passes information.
Winter
The heaviest rainfall occurs in the winter months. Come prepared for rain and drizzle to possibly last for several days. In between winter rains, it is often sunny, calm, and cool.
Spring
Most spring days are windy and the Drakes Estero area frequently experiences stiff breezes. Expect cool temperatures in March. By late May and early June, temperatures can be quite pleasant, even warm.
Summer
Although there is very little rain during summer months, there is often dense fog throughout the day in July, August and September with temperatures often 20 degrees cooler than at Bear Valley.
Fall
The coastal areas of Point Reyes experience some of the clearest days in late September, October and early November. The occasional storm will start rolling through in late October, bringing clouds, wind, and rain. The strongest winds occur in November and December during occasional southerly gales.
Accessibility Information
This trail traverses rolling terrain over short grass and packed dirt surfaces. With the exception of some ruts and animal holes, the trail surface is largely flat and even for the first mile (1.6 km). The trailhead parking lot is dirt/gravel and the vault toilets do not meet accessibility standards.
Last updated: August 17, 2023