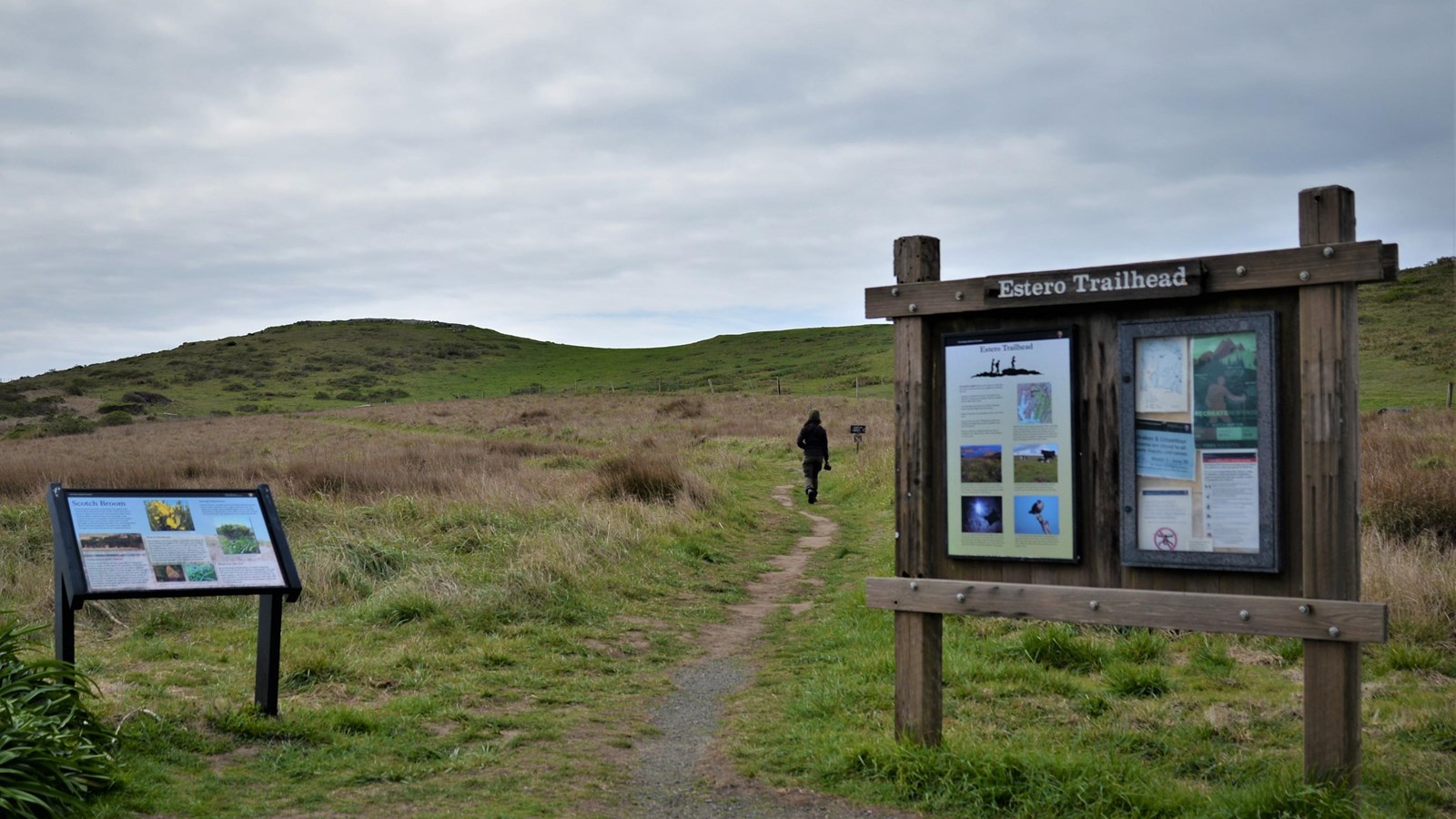 Location:
Point Reyes National Seashore's Estero Trailhead is located along Home Ranch Road, Inverness, California. Geographic Coordinates: 38.0816, -122.914
Historical/Interpretive Information/Exhibits, Information Kiosk/Bulletin Board, Parking - Auto, Picnic Table, Recycling, Toilet - Vault/Composting, Trailhead, Trash/Litter Receptacles
The Estero Trailhead is located at the northwestern end of the 9.7-mile-long (15.5 kilometer) Estero Trail. The Estero Trail meanders through coastal grasslands and scrublands with plentiful views of Drakes Estero and Estero de Limantour. The Estero Trail may be followed to connect to the Sunset Beach, Drakes Head, White Gate, Glenbrook, and Muddy Hollow trails.
Suggested routes from this trailhead
Hike the Estero Trail to Home Bay: 2.2 (3.5 km) roundtrip, easy – bikes permitted
Hike the Estero Trail to Drakes Head or Sunset Beach: 2.2 to 8.8 miles (3.5 km to 14.2 km) roundtrip, easy to strenuous
Bike the Estero Trail : 2.2 to 8.8 miles (3.5 km to 14.2 km) roundtrip, easy to strenuous
App Users: For more information on these specific routes, press the "Things to Do" icon on the park's homepage and select "Hiking" from the list of activities. Find the options listed above, or browse routes that begin at the park's other trailheads.
Take only pictures; leave only footprints: Almost everything one finds at Point Reyes is protected by law, including shells, rocks, fossils, flowers, and artifacts.
Please only travel on authorized trails, respect posted signs, and practice Leave No Trace principles when recreating in the park.
Check current conditions and trail advisories and closures before your visit.
Bicycles are permitted on the Estero Trail from the Estero Trailhead to the trail's junction with Drakes Head Trail, on Drakes Head Trail, and on Sunset Beach Trail.
Pets are not permitted permitted on any of these trails. Visit our Pets page to learn where pets are permitted at Point Reyes National Seashore.
Horses and pack animals are permitted on most park trails, including the Estero Trail, the Sunset Beach Trail, and the Drakes Head Trail. Please visit our Horse Riding page for more information.
Drones are not permitted anywhere in Point Reyes National Seashore.
Parking
The Estero Trailhead parking lot is approximately 20 minutes by car from the Bear Valley Visitor Center. There is a small dirt parking lot with space for ~30 vehicles on the west side of Home Ranch Road one mile (1.6 km) from Sir Francis Drake Boulevard. The Home Ranch Road is only one lane wide and does not have many good places to pull off. Drive slowly and cautiously. Recreational vehicles and vehicles pulling trailers are discouraged from using this road. If you are traveling with a trailer or are driving an RV towing a passenger vehicle, consider unhitching at the bus/RV/trailer-only parking lot at Bear Valley and taking only the passenger vehicle for the drive out to the Estero Trailhead.
Directions to Bear Valley
Directions from Bear Valley to the Estero Trailhead
Additional Information
Hikers on this trail may encounter cattle.
There is one picnic table located at the parking lot.
Last updated: September 16, 2022