Thing to Do
Greenstone Section 1: Hike from Lookout Louise to Mount Franklin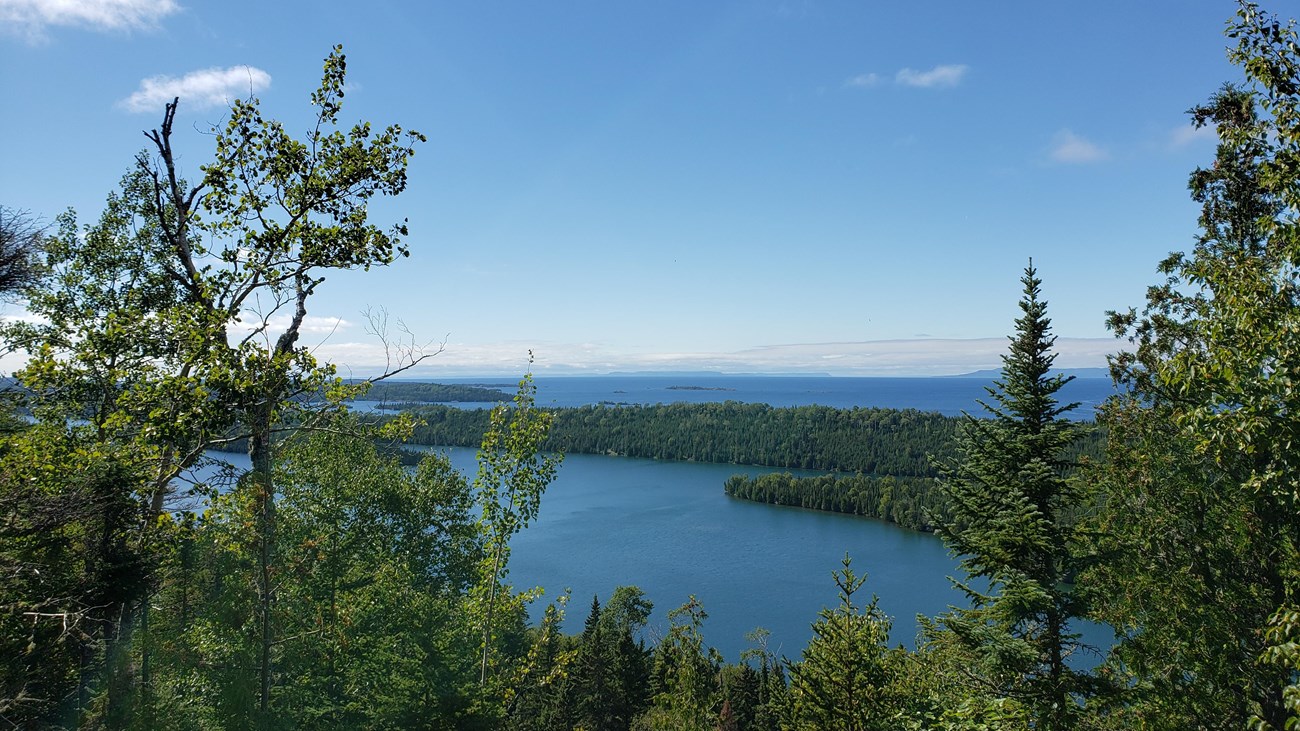 About this Trail
Mileage: About 5 miles

Rocks and roots on trail

Less trafficked trail making navigation difficult

Changing trail conditions require a map, compass, and navigation skills
Trailheads
Hike from Lookout Louise to Mount Franklin. Experience the exposed ridge on the east end of Isle Royale. This less traveled trail is the most eastern section of the Greenstone Ridge Trail that transects the island. Water access is unavailable on this section. Scenic views can be found at Lookout Louise and Mt. Franklin. Lookout Louise can be reached via a 1 mile hike from Hidden Lake. Hidden Lake can be reached by private boat, water taxi, or by joining a tour with the MV Sandy. Stop into the Rock Harbor Visitor Center for current of information.
Difficult to Reach Trail Section
This trail section is remote, even for Isle Royale. Backpackers enter the park through Rock Harbor or Windigo. Most backpackers choose to hike to/from Rock Harbor by foot rather than hiking to/from Lookout Louise and catching a pre-scheduled water taxi from Hidden Lake to Rock Harbor. Make sure to make arrangements before your trip if you choose to begin or end your trip at Hidden Lake/Lookout Louise.
Found Nearby
Rock Harbor Campground

Lane Cove Campground

Three Mile Campground
Backpackers may choose to get dropped off at Lookout Louise on a MV Sandy, separate fees apply. 
Location
Lookout Louise on Isle Royale National Park
Season
Spring, Summer, Fall
Accessibility Information
The trail is about 18 inches wide and is covered in rocks and roots. Access to Lookout Louise via Hidden Lake is accessible by private boat, water taxi, or a tour on The Sandy. 
Cell Phone Additional Information
Internet Additional Information
Accessibility Information
Cell Phone Additional Information
Internet Additional Information
Accessibility Information
Cell Phone Additional Information
Internet Additional Information
Accessibility Information
Last updated: February 23, 2022