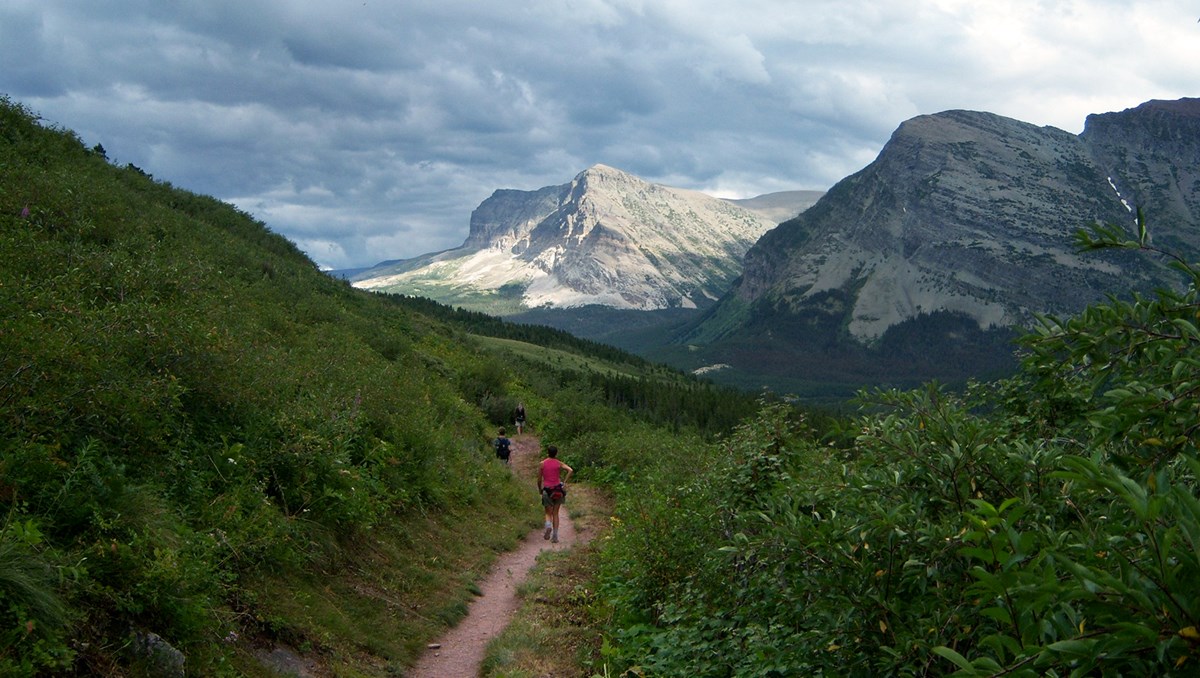 Glacier boasts 734 miles of trail. It is safe to say there is something for every ability level. Day Hikes abound in every section of the park, from a short lakeside stroll to a hike up a mountain.
If you are going out on a big hike, make sure you know your limits and those of your fellow hikers. Bring plenty of food and water. Any water collected from streams or lakes should be filtered. Remember, mountain weather can change quickly. Be prepared with both rain gear and sunscreen. It is also a good idea to let people know where you will be headed and when you expect to return. You can leave a Day Trip Plan at a visitor center or an in-park hotel desk. Hiking in groups is wise, and you can join a ranger on a number of all day hikes. Check the monthly Ranger-led Activity Schedule for details.
Below are some popular trails for a full day (5+ hour) excursion. Mileages listed are ONE-WAY.
Note: If you are seeking solitude, the Logan Pass and Many Glacier areas do not offer the ideal trails for you.
West Side
Huckleberry Lookout
6 mi (9.6 km)
Elevation gain: 2,725 ft (830.5 m)
Trailhead: Huckleberry Mtn. Trailhead on Camas Road
Logan Pass
Granite Park Chalet (The Highline)
[a] 7.6 mi (12.2 km)
Elevation gain: 800 ft (244 km)
Trailhead: via Highline Trail, Continental Divide sign at Logan Pass
[b] 7.6 mi (12.2 km)
Elevation gain: 2,300 ft (701 m)
Trailhead: Swiftcurrent Trailhead, by motor inn parking lot
[c] 4.2 mi (6.8 km)
Elevation gain: 2,200 ft (670.5 m)
Trailhead: The Loop Trailhead, on Going-to-the-Sun Road
St. Mary
Piegan Pass
4.5 mi (7.2 km)
Elevation gain: 1,750 ft (533 m)
Trailhead: Piegan Pass Trailhead
Siyeh Pass
[a] 4.6 mi (7.4 km)
Elevation gain: 2,240 ft (683 m)
Trailhead: Piegan Pass Trailhead
[b] 5.5 mi (8.9 km)
Elevation gain: 3,440 ft (1,048.5 m)
Trailhead: Sunrift Gorge Pullout
Many Glacier
Cracker Lake
6.4 mi (10.3 km)
Elevation gain: 1,400 ft (427 m)
Trailhead: South end of Many Glacier Hotel parking lot
Grinnell Glacier Viewpoint
[a] 5.3 mi (8.5 km)
Elevation gain: 1,600 ft (488 m)
Trailhead: Grinnell Glacier Trailhead or Many Glacier Hotel
[b] 3.6 mi (5.8 km)
Elevation gain: 1,600 ft (488 m)
Using concession boat from Many Glacier Hotel, tour fees apply and reservations highly recommended
Iceberg Lake
4.8 mi (7.7 km)
Elevation gain: 1,200 ft (366 m)
Trailhead: Iceberg Ptarmigan Trailhead
Ptarmigan Tunnel
5.3 mi (8.5 km)
Elevation gain: 2,300 ft (701 m)
Trailhead: Iceberg Ptarmigan Trailhead
North Fork
Logging Lake
4.5 mi (7.2 km)
Elevation gain: 400 ft (122 m)
Trailhead: North of Logging Creek Ranger Station
Numa Lookout
5.6 mi (9 km)
Elevation gain: 2,930 ft (893 m)
Trailhead: Bowman Lake Ranger Station
Two Medicine
Cobalt Lake
5.8 mi (9.3 km)
Elevation gain: 1,400 ft (427 m)
Trailhead: South Shore Trailhead
Dawson Pass*
6.5 mi (10.4 km)
Elevation gain: 2,450 ft (747 m)
Trailhead: North Shore Trailhead
*Dawson and Pitamakan Pass Trails can be combined for a popular all-day loop hike
Pitamakan Pass*
7.6 mi (12.2 km)
Elevation gain: 2,400 ft (731.5 m)
Trailhead: North Shore Trailhead
*Dawson and Pitamakan Pass Trails can be combined for a popular all-day loop hike
Cut Bank
Cut Bank is accessed off US Hwy 89, between Two Medicine and St. Mary
Medicine Grizzly Lake
6 mi (9.7 km)
Elevation gain: 475 ft (145 m)
Trailhead: Cut Bank Trailhead
Morning Star Lake
6.6 mi (10.6 km)
Elevation gain: 642 ft (196 m)
Trailhead: Cut Bank Trailhead
Triple Divide Pass
7.2 mi (11.6 km)
Elevation gain: 2,380 ft (725 m)
Trailhead: Cut Bank Trailhead
Walton
The Walton district is located off US Hwy 2 along the south boundary of the park
Firebrand Pass
4.8 mi (7.7 km)
Elevation gain: 2,210 (674 m)
Trailhead: Lubec Trailhead, US Hwy 2 Mile Marker 203
Scalplock Lookout
4.7 mi (7.7 km)
Elevation gain: 3,079 ft (938.5 m)
Trailhead: Walton Ranger Station