Thing to Do
Drive Going-to-the-Sun Road

Constructed in the late 1920s and early 1930s, the historic Going-to-the-Sun Road has long been one of the park's most popular destinations. It stretches over 50 miles through some of the most spectacular mountain scenery in North America, treating visitors to breathtaking views of glacier-carved peaks, emerald-blue alpine lakes, and lush forests.
Driving Going-to-the-Sun Road can take just a few hours, or you might spend all day enjoying the views. For safety reasons, 45 miles per hour is the speed limit in the lower elevations of the road and 25 miles per hour in the alpine section.
Pets are allowed in developed areas (e.g. parking lots, along roads) but are not allowed on trails. Pets must be on a leash no longer than 6 feet (1.8 m), under physical restraint, or caged at all times, including while in open-bed pickup trucks.
Vehicle reservations are needed for personal vehicles and motorcycles at certain times of the year. To learn more about vehicle reservations for the Going-to-the-Sun Road and other areas of the park, visit our vehicle reservations page. Reservations are not required to take the park shuttle.
Though portions of Going-to-the-Sun Road remain open year round, seasonal conditions (snow!) mean a drive across the whole road is only possible during summer months. Check Glacier's Road Status page before your trip.
We suggest arriving early or staying late if you want to find parking at Logan Pass. Be extremely cautious driving at night; visibility is low and wildlife may be numerous.
Accessibility Information
Going-to-the-Sun Road is fully paved, with numerous pullouts along the journey (some with informative signage, some with trails of varying accessibility) that allow for self-paced travel.

Both concessionaire bus tours (Sun Tours and the historic Red Buses) and Glacier's own Going-to-the-Sun Road Shuttle System have ADA accessible vehicles.

The highest point reached is Logan Pass, 6,646 ft (2,025 m) in elevation.

There is a Going-to-the-Sun Road Audio Tour available for download, which provides commentary at various stops and features along the road.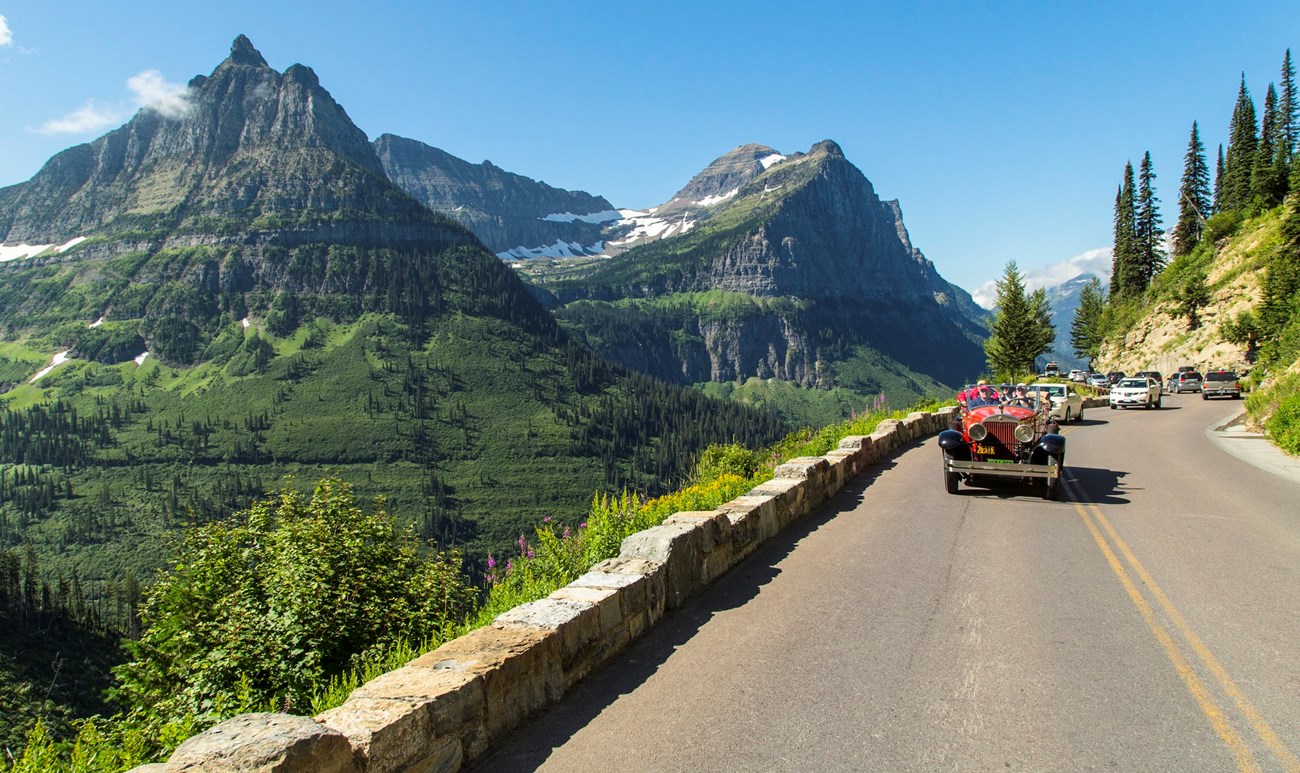 A trip across Going-to-the-Sun Road is a trip into the heart of Glacier. This "transmountain highway" offers exceptional views at every turn. The road stretches about 50 miles between the West Entrance and St. Mary Entrance, and climbs to 6,466 ft (2,025 m) at Logan Pass. There are numerous stopping points along the road. Highlights include Lake McDonald Lodge, short hikes like Trail of the Cedars or St. Mary Falls, Logan Pass Visitor Center, and the many informative wayside signs that explain features and track your journey.
There are multiple ways to travel:
Drive a personal vehicle. Be aware there are size restrictions. Vehicles, and vehicle combinations, longer than 21 feet (including bumpers) or wider than 8 feet (including mirrors), are prohibited between Avalanche Campground and the Rising Sun picnic area parking.

Take the free Glacier Shuttle System that runs two-way service between Apgar Visitor Center and St. Mary Visitor Center.
Book a tour with commentary with either park concessionaire, Sun Tours or historic Red Buses.
---
Explore the Going-to-the-Sun Road pages on Glacier's website for further information about the shuttle, audio tours, road status, and more.
---
Stop along your journey and stretch your legs on a short trail. Below is a list of hikes less than two miles, accessed from GTSR. All mileages listed are one-way.
West to East
Trail of the Cedars
0.7 mi (1.1 km)
Accessible
Trailhead: Avalanche Picnic Area
Hidden Lake Overlook*
1.4 mi (2.2 km)
Elevation gain: 460 ft (140 m)
Trailhead: Logan Pass Visitor Center
*Additional 1.2 miles (1.9 km) further to Hidden Lake, dropping 780 ft (238 m) from the Overlook
Sunrift Gorge
200 ft (61 m)
Elevation gain: 40 ft (12 m)
Trailhead: Sunrift Gorge Pullout
Baring Falls
0.3 mi (0.5 km)
Elevation loss: 250 ft (76 m)
Trailhead: Sunrift Gorge Pullout
St. Mary Falls
[a] 0.8 mi (1.3 km)
Elevation loss: 260 ft (79 m)
Trailhead: St. Mary Falls Shuttle Stop
[b] 1.2 mi (1.9 km)
Elevation loss: 260 ft (79 m)
Trailhead: St. Mary Falls Trailhead
Last updated: July 17, 2023