Visitor Center Dedication Ceremony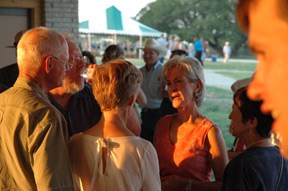 The preserve officially dedicated the new visitor center and administrative office buildings on Friday July 13, 2012 to a crowd of approximately 200 in attendance. Visitor activities of button making, "make you own brand", bee keeping presentations, natural resource hikes, kite flying, and veterinary and draft horse talks and demonstrations began at 3 p.m. with music at 6 p.m. and the official ceremony at 8 p.m. The photos below document the special event.
Visitors speak with Secretary of Health and Human Services Kathleen Sebelius before the ceremony begins.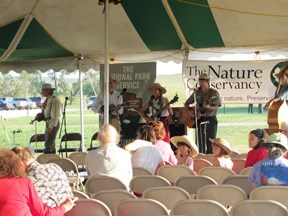 Visitors enjoy the prairie music of Tallgrass Express String Band under the special event tent, while a warm breeze blows past.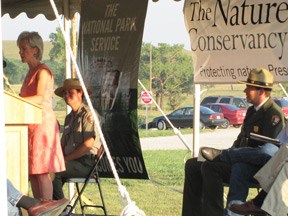 Secretary of Health and Human Services Kathleen Sebelius speaking about her former role as Governor of Kansas and President of the Kansas Park Trust in helping to obtain the funds for the new visitor center.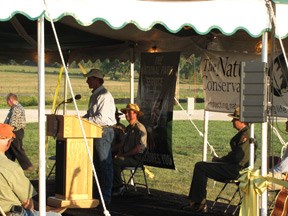 Partner Rob Manes, State Director for The Nature Conservancy Kansas Chapter speaks at the ceremony.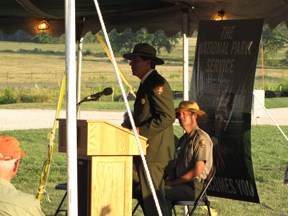 National Park Service Midwest Regional Director Mike Reynolds speaks at the dedication ceremony.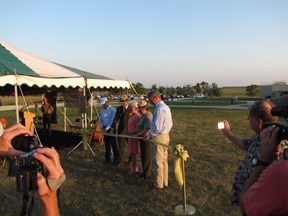 Partners cut the ribbon in unison.
It's official. The visitor center is open and awaiting your arrival.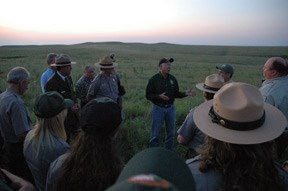 Secretary of the Interior Ken Salazar speaks from the heart to partners and tallgrass prairie staff, while the bison herd grazes in the distance. It was a memorable conclusion to a very special moment in the preserve's history.
Last updated: April 10, 2015