Why Catch and Release Fishing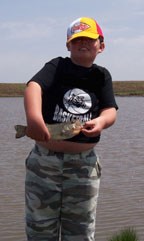 The National Park Service (NPS) strives to maintain park resources in a natural, unaltered condition. Native fish contribute to nutrient recycling and help maintain natural ecosystem processes when they live out their entire lifecycle, from spawning to death, in the aquatic system. Catch and release fishing improves native fish populations by allowing more fish to remain and reproduce in the ecosystem. This practice provides an opportunity for increasing numbers of anglers to enjoy fishing and to successfully catch fish. Releasing all native fish caught while in a national park will ensure that enjoyment of this recreation opportunity will last for generations to come. Learn more about how to successfully catch and release fish.
Where Can I Fish on the Preserve?
What is a Native Fish?
Any species that has occurred within that water body or may occur as a result of natural processes and was not introduced by humans or circumstances that are a result of human activity.
What is a Non-native Fish?
Any species that did not historically occur within that water body and was introduced by humans or circumstances that resulted from human activity. Both native and non-native fish may reproduce naturally within a water body and have self-sustaining populations.
Native versus Non-native Fish
The early history of national park fishery management involved frequent stocking of non-native fish, such as rainbow trout in the east and brook trout in the west, to increase fish numbers and diversity, and to enhance recreational fishing. High alpine lakes and other locations, where fish had not occurred historically, also became habitat for non-native fish.
As scientific knowledge and understanding of natural ecosystems evolved, managers of protected natural areas realized that the introduction of non-native fish often results in alteration of the natural aquatic ecosystem. Introduced fish frequently out-compete native fish for food and habitat, reducing or eliminating the distribution and abundance of native fish.
The NPS no longer stocks for recreational fishing in natural areas. Instead, the National Park Service relies on natural reproduction and careful management of fishing activities to sustain populations and fishing opportunities. However, early stocking practices have left their legacy in many park waters. Non-native fish inhabit many aquatic ecosystems, disrupting natural processes.
Why Protect Native Species?
The NPS provides fishing opportunities for wild native species in their natural environment. Congress established the National Park Service to protect and preserve outstanding examples of our nation's natural and cultural resources. That mission requires that the NPS manage those areas to conserve native species and natural ecosystem processes unimpaired for present and future generations. Opportunities abound outside national parks to fish for non-native fish or even abundant, artificially stocked native fish.
Last updated: April 10, 2015