Weather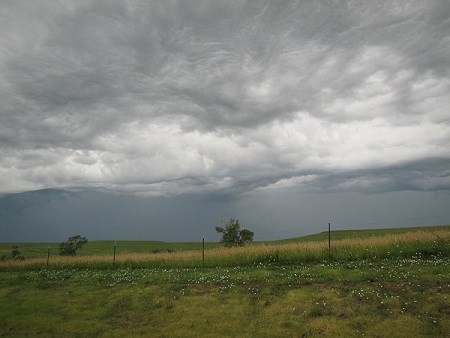 Prairie weather has a desert-like personality of opposing extremes. Wildlife and prairie flora have become accustomed to these harsh changes. Several cactus and reptile species normally associated with desert climates thrive in this unique landscape.
Warm moist air from the Gulf of Mexico clashes with cold Canadian air over the Great Plains region. This produces extreme temperature ranges and high precipitation. Seasonal temperatures can spike or fall 40 degrees in a day. Annual precipitation averages 30-40 inches, mostly in rainfall. Thunderstorms bring forceful winds uninhibited by trees. Rarely, violent summer storms can produce tornadoes.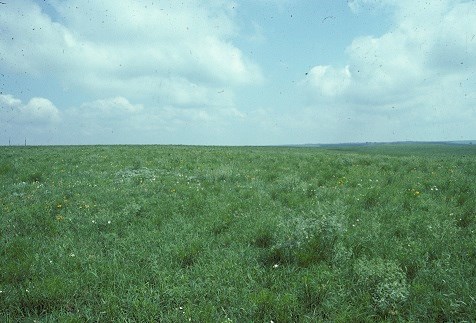 Spring
Smoke rises every spring in the Flint Hills. Land managers prepare for another growth season in one of the world's best grazing regions. Fires will temporarily reduce the air quality within the region. Land managers coordinate with the Environmental Protection Agency to monitor and reduce this impact on urban areas.
Fresh grasses emerge a few days after a spring rain. This green carpet is rich in nutrients for wildlife. The fresh vegetation and warm temperatures encourage wildlife to emerge from their winter refuge. Migratory birds return for the mating season. Bison birth their calves. Wildflowers open close to the ground for early pollination.
Rain and low vegetation make trails in the bottomland relatively muddy. Creek crossings may be deeper with slick footing. Wildlife is most present with nest-building and mating calls.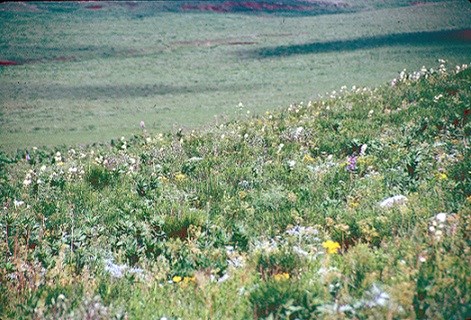 Summer
Prairie wildflowers continuously changing the summer landscape as they bloom and fade. Pollen levels can be high. Temperatures often range in the 90s to low 100s Fahrenheit. Wear appropriate clothing. Use insect repellent and sun screen. Bring adequate water for hiking. Water fountains are at the visitor center and the restroom area near the barn. The bookstore occasionally sells bottles at the visitor center for filling on-site.
Early morning hikes during summer are practical before temperatures reach daily highs. Check the weather forecast before setting out. Quick storms can produce lightning, which is dangerous in the open prairie. Do not hike when severe storms threaten. The open prairie offers little protection against wind, hail, or lightning.
Kansas ranks #4 (behind Texas, Oklahoma, and Florida) for total number of tornadoes. Most tornadoes occur between April and June. Tornadoes and thunderstorms are highly visible phenomena in the Midwest region of the United States. These powerful meteorological events have become icons of Kansas within fictional stories like "The Wizard of OZ". Yet between these violent outbursts, a much milder climatic ebb and flow exists.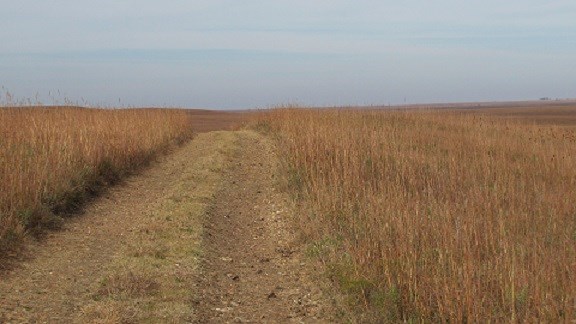 Autumn
This mild dry season marks the close of the growing season. Daylight shortens. Cooler winds prevail with dusty wind gusts. We say grasses here are "Tall in the Fall" reaching over 8 feet in some bottomland areas. Grass colors change to amber as plant nutrients retreat into their massive roots. Stalks of vibrant summer flowers stand bare until winter.
Fall marks the breeding season for many mammals, including the bison. Migratory birds move south in flocks by the thousands. Land managers may execute controlled burns in the fall for secondary fields.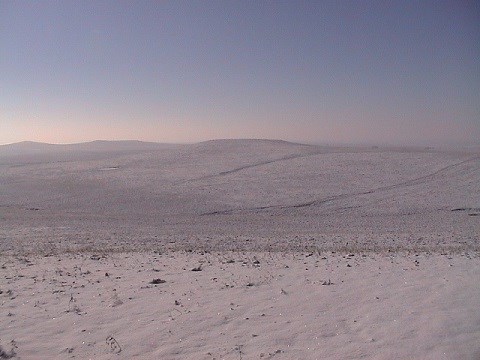 Winter
Temperatures can range from 60+ degrees Fahrenheit in the daytime to well below freezing at night. Snowstorms come and go yet only occasionally leave accumulations. Ice accumulations are dangerous after nightly freezes. Roads and the historic ranch buildings may have slick surfaces during the winter months. Winter wind is harsh on exposed skin. The house is climate controlled and is often a nice respite for both summer and winter weather conditions.
Most wildlife goes dormant during the cold months. Larger mammals, rodents, raptors, and few songbirds remain active in the area. The weather bends the tall grasses down insulating the ground for prairie invertebrates and small mammals.
Visit these links for weather forecast and data collected at the preserve.
Last updated: March 11, 2022