Weather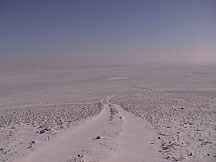 When we think of weather in the Midwest region of the United States, images of tornadoes and thunderstorms might come to mind. These powerful meteorological phenomena haunt our thoughts and remind us of little structures being lifted high into the sky like Dorothy's fictional farmhouse in "The Wizard of OZ".

Yet between these violent outbursts, a much milder climatic ebb and flow exists. In the winter months of Tallgrass Prairie National Preserve, temperatures can range from 60+ degrees Fahrenheit in the daytime and drop to well below freezing at night. Snowstorms come and go yet only occasionally leave accumulations.

The summer months often range into the high ninetys to low 100s in temperature. Please make sure you bring an adequate amount of water if planning to hike, wear appropriate clothing, and use insect repellent and sun screen. There are water fountains available at the visitor center and at the restrom area near the barn. We do not sell bottled water, but offer water bottles for sale for filling on-site.

It's often more practical to hike in the early morning hours before it becomes too hot. The prairie remains open 24/7 except in times of prescribed fire. A quick storm often produces lightning, which is very dangerous in the prairie. Please check in at the visitor center to get the most current weather forecast and do not hike when severe storms threaten.

The historic ranch buildings are open daily. Please be aware of slick surfaces during the winter months and use caution, following all safety signs. The house is climate controlled and is often a nice respite for both summer and winter weather conditions.

Prairie weather has a desert-like personality of opposing extremes. Wildlife and prairie flora have become accustomed to these harsh changes. It may come as a surprise to learn that several species of cacti and reptile normally associated with desert climates thrive in this unique tallgrass prairie landscape.
Please visit the links below to see the current weather forecast at the preserve. Also, it is a good idea to check these links before hiking into the prairie, as storms can produce severe weather and the prairie does not offer much protection against hail or lightning.
Last updated: October 26, 2020