Virtual Tour Ranch House Bedrooms
Fourth Level
The Photos from 1935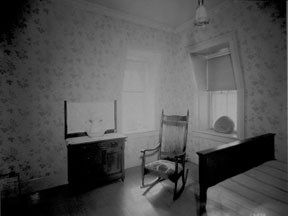 The Historic Bedrooms and Bath Area
Historically there were three bedrooms and a bath area on the top level of the home. Photos document two of the bedrooms; the southeast bedroom was either not photographed or the photo is missing. The foot of the bed is visible, a dresser with space to hang a towel and water pitcher on top, a rocking chair, and shades at the two windows are visible in this view.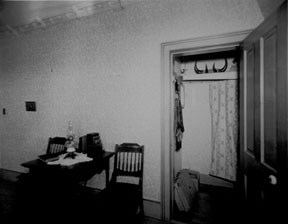 Photo showing interior of closet, table with lamp in center, and two chairs at the table are visible. A few books are on the table. A set of cattle horns mounted on a piece of wood are visible in the closet sitting on a shelf.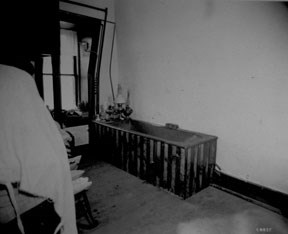 Bathtub Area
Bathroom interior shows a galvanized and copper tub with wooden side slats. The outhouse was still being utilized during this time. Also in the photo is what appears to be a water holding tank positioned on tall legs with a chair nearby.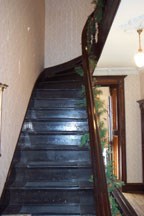 Photos Today
The walnut staircase reaches from the first level parlor/foyer area all the way to the fourth level where the bedrooms and bathing area were located. A historic newspaper account tells of Mrs. Jones falling and breaking her arm on the house staircase. The article did not state the exact location of the fall, but it is interesting to read what was newsworthy for the day.
Upon further investigation, check out the underside of the staircase railing where the individual pieces are joined together. The railing was constructed off-site and put together on-site, matching together the Roman numerals placed underneath at each seam.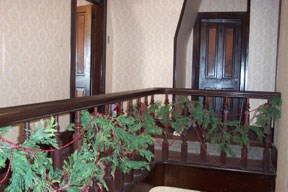 Railing and the Top Level of the Home
The original pine floors are still visible on this floor and show some wear of its historic occupants. Faux painting of the woodwork is visible on the doors and frames, but is a little less detailed than the faux finishes found in the formal areas of the home. Ceiling heights decline as one ascends upward through the home. The door on the left in the photo is the doorway to the missing southeast bedroom photo. The door to its right is the southwest bedroom seen in the photo above.
We know from historic newspaper accounts that Mr. Jones' home had a skylight, due to the amount listed as glass storm damage received during construction. The newspaper article reports a loss of $100 in glass to the mansion from the storm. Take note of the smaller, modern skylight inset inside the original skylight frame. Notice how much larger the original skylight was in comparison to the one of today. During the 1980s remodeling, carpenters noted the remnants of the original skylight framing.
Last updated: January 17, 2018