Virtual Tour Outhouse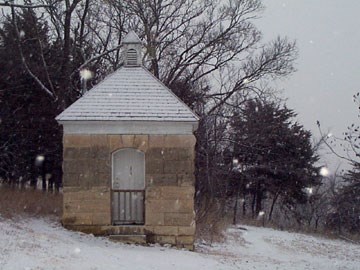 Little Privy on the Prairie
How fitting this little outhouse is to the entire Spring Hill Ranch complex. Stephen Jones didn't cut corners on his buildings.
The exterior walls are substantial and beautiful, built with block limestone and keystones with a hammered face and tooled stone edges. The corner stones also have tooled edges.
The interior walls are rough-cut ashlar stone, which are dressed at the windows. There is evidence that the interior was meant to be enclosed with either wood or wood, lathe, and plaster. The outhouse even has curtains in the windows for that added element of privacy.
An outhouse was necessary, as this predated indoor plumbing here on the prairie. The only thing that saved someone from a trip to the outhouse on a cold, snowy night was the chamber pot. There are many names for these little helpers, such as "Thunder Buckets", "Rumble Pots", etc.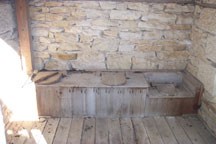 A Three-Seater
Like all of Mr. Jones' buildings, the outhouse was no exception. Inside you will find three seats; two adults and one childs. The purpose being biodegradability. On the adult side as one area filled, lime was used to break down solids. Meanwhile, the other opening would be utilized until the waste was dissolved.
Another reason for three seats may have been to accommodate each individual member of the household; Mr. and Mrs. Jones and daughter Loutie. However, Victorian modesty and culture only allowed the outhouse to be used by one member of the household at a time.

Back to Virtual Tour Main Page
Last updated: January 17, 2018