Virtual Tour Chicken House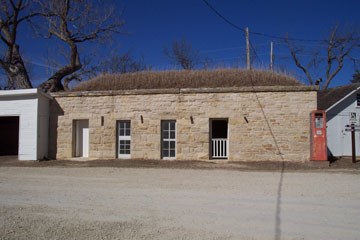 View showing the south side of the chicken house. The structure was built into the hillside and topped with a sod roof, both acting as insulation for Mr. Jones' chickens. Even in the heaviest rain, the chicken house remained dry and the chickens kept warm. Ventilation is also important for egg productions, so Mr. Jones provided the chickens with two skylights through the sod! Today they are covered over for safety, but originally the skylights could be opened for ventilation. This was the cadillac of chicken houses.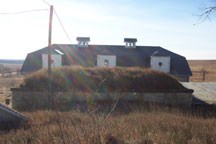 Looking south toward the sod roof. Note how thick the sod is on top. Also note how the building is built into the hillside. The massive limestone barn is in the background.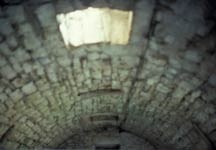 The chicken house is built of native limestone with an arched stone roof covered with sod, opening above to let in light. The chickens would roost in the sod covered house by night, then visit the building to the west to feed during the day. This area was their "scratch shed" or pen where the chickens "scratched" in the dirt for their feed. This exercise promotes healthy chickens and yields better egg production. The lavish poultry house provided the essential requirements to keep hens healthy for maximum egg production and safe from hawks, owls, skunks, and cats. A coop this size could easily accommodate 20 to 35 fowl.
The south facing windows are large enough to admit the sun freely and are positioned to give the most sunlight on the floor during the cold winter months. The 25 inch thick walls keep the coop free of dampness in the rainy season, warm in the winter, and cool in the summer. The most important requirement in raising poultry is pure air and good ventilation. The south windows can be slid open to work in conjunction with the ceiling vents, allowing air to flow freely throughout the house. The two openings in the ceiling can be adjusted depending on the weather conditions, temperature, and season.
To learn more about stone arch architecture in the Flint Hills.
Last updated: February 26, 2022