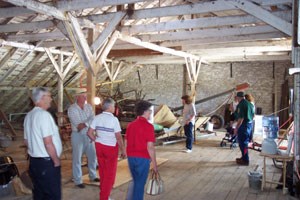 The third floor was originally used to store hay and grain. From 1945 through 1947 the Davis-Noland-Merrill Grain company added four grain bins and two cupolas to reflect the change in operation of the ranch. Today this level is used to store historic farm equipment and is opened periodically on special occasions.
During the time of Stephen F. Jones, a giant windmill was placed on the middle portion of the north side of the barn. Not long after its installation, the windmill was damaged during a storm. Whether it was repaired and replaced is uncertain. However, it was thought that the constant blowing winds turning the windmill may cause vibrations in the barn that could potentially damage the structure. It was removed sometime in the mid 1880s, but an exact date of its removal is unknown. The 1887 lithograph shows the windmill on the barn, but artistic license may be the reason for its presence in the image. We do know from the following quote that a windmill was indeed installed on the barn at one time.
"Hildebrand Brothers are placing a windmill in the barn, having thirty foot wings, with a power equal to that of a twelve horse power engine. (Strong City Independent, December 24, 1881). "The 'double-header' windmill of Mr. S.F. Jones'--the largest in the state--will be expected, when it gets down to business, to furnish motive power for a pair of corn burrs, a corn sheller, hay-chopper, root-cutter, and an oil-cake crusher." (Independent, February 4, 1882).