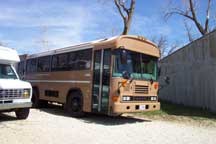 Preserve Announces Expanded Visitor Activities During Bus Tour Season

May 12, 2006
For Immediate Release
Heather Brown 620-273-8494
Living history programs will be offered from 10 a.m. until 4 p.m. on holidays and the first and third weekends of the month from May 27 through October 22, 2006. Ranching activities and demonstrations will take place throughout the day with a special interpretive program given at 10 a.m. Visitors may try their hand at skills that were needed for daily life on a working ranch. Cultural demonstrations will showcase carpentry, rock fence building, gardening, saddling and harnessing, blacksmithing, roping, cooking and food preservation, quilting, wool spinning, and sewing. Beginning June 3rd through October 7th, the first Saturday of each month will feature historic music and wool spinning demonstrations. A schedule of activities is posted on the preserve website at www.nps.gov/tapr.
Starting June 11, 2006, rangers will lead an hour-long nature hike along the stream bank of Fox Creek east of the historic ranch headquarters area. Fox Creek Discovery Hike will be offered at 10 a.m. on Saturday and Sunday on the second and fourth weekends of the month from June 11 through October 28, 2006. Visitors are encouraged to wear appropriate hiking clothing, bring drinking water, and use insect repellent. Natural history presentations on geology, birding, bison, and wildflowers are also offered during these weekends.
A 6.4-mile guided bus tour of the preserve's more remote prairie is available at 11 a.m., 1 p.m., and 3 p.m. daily from April 29 through October 29, 2006. The cost is $5.00 per adult and $3.00 for ages 5 - 18 years. There is no charge for children age 4 and under. Advance reservations are recommended, but arrangements can be made on the day of the visit if space is available. For more information, please call the park rangers at 620-273-8494.
Guided tours of the historic 1881 limestone ranch house are conducted hourly on the half-hour starting at 9:30 a.m. and concluding at 3:30 p.m.
The Lower Fox Creek School, a one-room schoolhouse, is staffed by volunteers and is open to the public from 12 noon until 4 p.m. on weekends during May and June, and again in September and October. Please call ahead to verify program availability.
Tallgrass Prairie National Preserve is a public/private partnership with the National Park Service, The Nature Conservancy, and the Kansas Park Trust. Located two miles north of Strong City on Kansas State Highway 177 (the Flint Hills National Scenic Byway), Tallgrass Prairie National Preserve is open daily from 9 a.m. until 4:30 p.m. except Thanksgiving, Christmas, and New Years Day. For more information or to make group arrangements, e-mail: tapr_interpretation@nps.gov or call the preserve at (620) 273-8494.

-NPS-