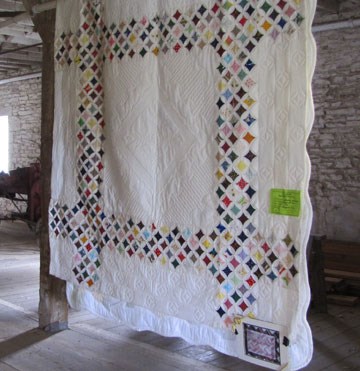 The preserve's 10th annual quilt show hosted 32 beautiful quilts in the historic barn, including the 6 from the student's 2010 quilt project, Building Common Ground Through the Quilts of Many Hands. The display showcased quilts over the Labor Day weekend with 56 visitors voting in the contest. A wide variety of quilts were on display making for very stiff competition, as all the quilts were beautiful and very unique. Quilts ranged from new creations, applique, historic patterns, hand-quilted, machine quilting, embroidery, scrap, and more using old and new techniques.

Margaret Tice won the honor of Best of Show in this year's display with her quilt, "Cathedral Window". The quilt boasts fine hand quilting and intricate slip stitching of thousands little cathedral windows. This quilt is a work of art.
The preserve wishes to thank all that participated in this year's display and for the show of support to keep this artform alive. Join us as we thank Margaret for sharing her beautiful quilt.
Below are a few photos of the beautiful quilts from the weekend. A fun time was had by all who attended.