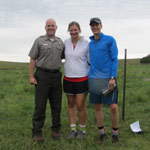 The preserve helps launch the Every Kid in a Park Pass as part of President Obama's commitment to protect our nation's unique outdoor spaces and ensure that every American has the opportunity to visit and enjoy them.

Follow along on a year long journey with the Switchback Kids via their website and blog. With over 400 National Park Service units, 59 have been designated as "National Parks". The preserve was lucky enough to be on the way and Elizabeth and Cole stopped in for a visit and a hike among the tall grass.

The historic barn is open after rehabilitation of the flooring, joists, and supports.View photos here!

A growing herd of bison make their home on the preserve in Windmill pasture. Please do not attempt to pet or come in close contact with the bison. If threatened, they will defend themselves. Please keep a safe distance when hiking in the bison pasture. Read More for Bison Safety

Please begin your visit to the preserve at our visitor center. Parking is to the south (left) as you enter the driveway from the highway. Please read all signs and check Facebook for more frequent updates.

Please continue to call ahead (620-273-8494) for tour availability.
-------------------------------------------------------------------------------------- Past News Articles
Historic Reproduction Bain Wagon Arrives at the Preserve

The Nature Conservancy Kansas Chapter (TNC) recently closed on a nearly 2,000-acre conservation easement bordering the Tallgrass Prairie National Preserve located in the Flint Hills of Chase County, Kansas.
More information

Tallgrass Prairie National Preserve and the Kansas Geological Survey have partnered together to create a new interactive geologic map of the preserve.

The preserve opened three ponds to catch and release fishing. See Outdoor Activities section for more details.

Tallgrass Prairie National Preserve and the Flint Hills was selected as one of 8 Kansas Wonders.