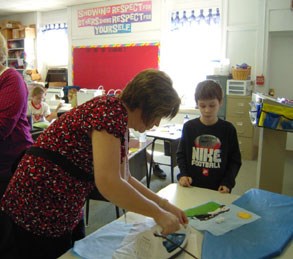 After six months of collaboration between fourth-grade students, local artists, and park rangers from across Kansas, six student-designed quilts depicting stories of the five National Park Service sites in Kansas were unveiled at Fort Larned National Historic Site on May 28, 2010. The quilts toured the five National Park Service sites of Kansas for the 2010 summer as a part of a traveling exhibit entitled: "Building Common Ground Through the Quilts of Many Hands." The project engaged students with quilt guilds in the community, who shared and depicted the rich heritage preserved by the National Park Service through one of America's most valued, iconic, and revered traditional crafts: quilting.
To request a packet of information on how you may become involved with the quilt project, please call 620-273-6034.

Park rangers from each of the five National Park Service sites in Kansas and local quilting guilds worked collaboratively with fourth-grade students. Students learned how stories are told through quilts in workshops. Each student then designed and fabricated a 12-inch quilt block with the assistance of local quilt guilds and park rangers. After visiting their local park site, students composed a one-page story or essay describing their quilt block and the story it represents. The blocks will depict a story relating to each school's local park site. Once completed, the local guilds helped students tie the quilts together. The project was a collaboration between the five National Park Service units in Kansas, local elementary schools and quilting guilds within each park community and was funded in part by a National Park Foundation grant.

At each National Park Service site, visitors were able to view the six quilts and read each student's essay describing the untold park story depicted in their individual quilt block. Visitors then voted for their favorite quilt. All participating students received prizes; however, the quilt receiving the most votes was awarded a grand prize and honored with a formal presentation at the winning school in September. The winner was the Tallgrass Prairie National Preserve quilt, however they all were winners.
Mark Weaver, Superintendent at Nicodemus National Historic Site commented, "Children today are so hardwired for computers and electronic learning, that this opportunity to learn through the hands-on art of quilting will enrich their lives in many ways. I'm so very proud of them all."

In Cottonwood Falls, 4th grade students at Chase County Elementary School worked in conjunction with the National Park Service and the Flint Hills Quilt Guilds, two local quilting groups, to produce the preserve's quilt. Park rangers from Tallgrass Prairie National Preserve worked with elementary teacher Lori Potts and Jerry Shaw to implement the project.
Follow the link below to view a slide show of students and quilters from four of the five parks assembling the quilts.

Video was produced by Ranger Barry Geertsen. Below are photos of the quilts as they were on display at the preserve.