Prairies and Grasslands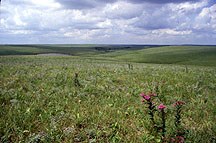 Lungs of a Nation
No other ecosystem in America removes as much carbon from the atmosphere as prairie grasslands. Some carbon that is produced by our giant industrial complex is recycled into the fertile soils that have become a breadbasket for the entire world.

It is fascinating to note that 80% of prairie plant life is underground. Long tentacled root systems survive grazing, fire and flood to sprout each spring and renew an amazing cycle of life that due to its low lying subtlety is often over looked.

Less than 4 percent of this once vast prairie grassland survives today. The shallow soil from limestone parent material has kept this remaining portion intact. Farming was limited to bottomland areas along the drainages that lie between these subtle yet defined limestone hills and ridges. Though that larger portion of the tallgrass has been plowed and altered for agriculture, it is this Flint Hills remnant of prairie that continues to breathe and rejuvenate the air and land as it has for thousands of years.
Last updated: October 27, 2021