Building Materials and Tools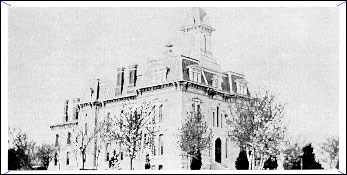 Wood was scarce when the prairie was settled in the mid-1800s. The abundant limestone became important in the construction of buildings, bridges, and fences. The Cottonwood limestone that occurs in layers near the base of the hills in the Fox Creek valley is a common building stone in Kansas. The Chase County Courthouse in Cottonwood Falls, Kansas was constructed of Cottonwood limestone in 1873. Much of the state capital in Topeka, Kansas is also constructed with Cottonwood limestone.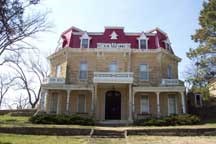 Cottonwood limestone is thick, nearly white in color, even-textured, durable and contains numerous fusulinid fossils. These extinct single-celled animals fossilized the size and shape of wheat-grains. Blocks three or more feet thick by several feet in length and width can be taken from a limestone ledge. The ranch house and parts of many of the buildings on the preserve are built with Cottonwood limestone. Another layer called Funston limestone was used to build the barn. These stones were taken from rock quarries south of the preserve's boundary.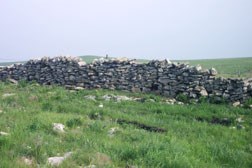 Fences were generally constructed from fieldstone or taken from shallow quarries. Stephen Jones ordered 30 miles of stone fence built on his 7,000 acre property. Miles of stone fences can still be seen throughout the preserve and Chase County.
Not all limestone is suitable for construction of fences or buildings. It can be ground into gravel for rural roads, driveways, and construction materials.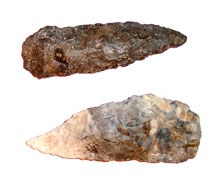 Flint was a very common medium used for stone tools and weapon points for thousands of years by early humans. Flint arrowheads were useful tools made by the Kansa, Osage, and other native tribes. The chert (or flint) is abundant in the Flint Hills. It was often quarried and found on the ridge tops. These flint-filled soils made it difficult to cultivate. This problem led to a ranching and grazing culture that has dominated land use since the 1880s.
Last updated: March 5, 2022