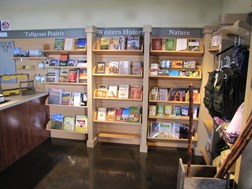 Eastern National Outlet
The bookstore at Tallgrass Prairie National Preserve is operated by Eastern National. Available for purchase are books about the tallgrass prairie, cowboys, American Indians, children's books, plant guides, hiking medallions, patches, dolls, Jr. Ranger items, soft bison toys, and other items to make your visit memorable. Please contact the bookstore at (620) 273-8494 for details or you may visit the on-line store to purchase items directly from Eastern National's website.
Eastern National is a nonprofit cooperating association of the National Park Service. Headquartered in Fort Washington, PA, the association was founded in 1947 at Gettysburg National Military Park by National Park Service rangers. It was to be a cooperating association that would serve a network of individual parks that could not sustain their own cooperating association. Currently, Eastern National is the cooperating association for over 150 national park units, and is partners with many other public trusts including the U.S. Forest Service, Army Corps of Engineers, and state and city park systems. The primary partner of Eastern National is the National Park Service.
Please feel free to also visit the local communities for purchase of snacks and other items to assist in your visit. There is much to see in Chase County, Kansas.