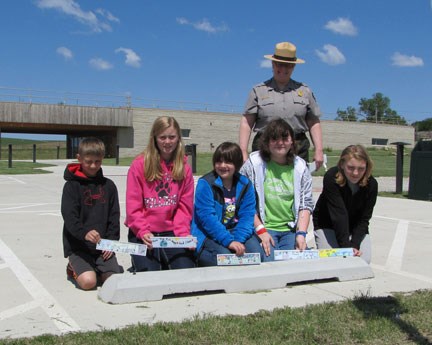 Student Car Stop Artwork Reflects "Green" Messages
As part of National Park Week, 4th, 5th, and 6th grade students at Chase County Elementary School took part in an art contest that challenged local students to create "green" messages for placement on the Visitor Center's parking car stops. The contest theme was "How to Reduce Your Carbon Footprint". After learning about ways to reduce their own carbon footprints, students focused on the task of creating art posters expressing their own ideas. Teachers chose the top fifteen posters after which Chase County Elementary School students voted for their favorite poster through donation. The students raised two hundred seventy dollars to aid in the Outdoor Learning Center at the school.
The top five posters with the most votes were selected for reproduction onto durable metal pieces for placement on the parking stops. The contest was a way to fix a problem with the curbs and was also fun for the kids. The pre-cast parking car stops have company advertising embedded in the tops. The advertising is not allowed, so the student's artwork hides the advertising and gives visitors tips for "going green."Through this contest, students learned how they can have a positive impact on their environment, while also bringing visitor attention to climate change.
Here are the messages for "Going Green"