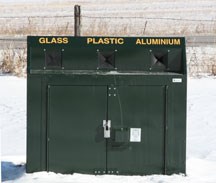 Recycling at the Preserve -
The preserve is actively "going green" by purchasing and using 100% recycled paper, re-fillable ink cartridges, and compact fluorescent light bulbs. We also recycle paper, plastic, aluminum cans, glass, and cardboard.
Our visitors can help us (and the environment) by actively recycling glass, plastic bottles, aluminum cans, paper, and batteries. The preserve has recycling bins available in the bottom parking lot, inside the historic barn, and on the back porch of the ranch house. This image shows one of the recycling stations at the preserve.
Every year parks report on the amount of trash being recycled or diverted (composted). In 2012 the preserve built its new visitor center and moved offices and storage space out of the historic buildings. Moving and construction often generates a great deal of waste. For the preserve, the construction generated waste was not part of the report, because the contractor was responsible for its own waste removal.
Report Findings for Tallgrass Prairie National Preserve
For 2012, recycled waste at the preserve was 2.678 tons with 34.88% being diverted or composted. For this example, composting directly correlates to not bagging mowed grass clippings, thus diverting waste being hauled to the landfill. Regular trash including staff and visitor used trash cans and dumpster was five tons. The more we and our visitors recycle, the lower this number will be, directly relating to fewer tons being hauled to the landfill.
The preserve recycled for 2012:
20 lbs of aluminum
372 lbs. of cardboard
24 lbs glass
1040 lbs mixed paper
36 lbs newspaper
88 lbs. plastic
1460 lbs scrap metal
14 lbs. steel cans
2 lbs. toner cartridges
1.150 tons of horse manure was recycled