Emile and Irene Soyez Story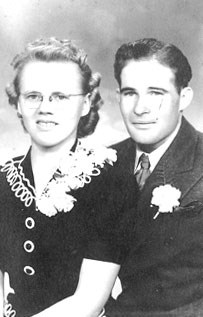 In honor of Emile F. Soyez, Jr. and Irene Regier Soyez, donations to Tallgrass Prairie National Preserve were used to purchase six historic reproduction wall lamps for placement in the Lower Fox Creek Schoolhouse. The lamps will be utilized for evening interpretive programs at the one-room school. The Soyez' family believed in furthering one's education, so the one-room schoolhouse was a very appropriate venue to honor their legacy. Below is the story of the Soyez family and their connection to the Flint Hills, ranching, and education.
Emile F. Soyez, Jr. was born in 1920 east of Florence, Kansas. He loved horses from an early age and would gallop across the Flint Hills of Kansas. In 1936 when Franklin D. Roosevelt was campaigning on a whistle stop train tour through Kansas, Emile, Jr. was able to see him at the Santa Fe Depot in Florence. Emile F. Soyez, Jr. graduated from Marion High School in 1938 and started farming with his dad. They had a cow/calf herd and farmed using a rotation of wheat, milo, and alfalfa hay.
Irene Regier Soyez was born in 1919 near Buhler, Kansas. She enjoyed playing the pump organ her father bought for the family at a farm auction in the hard times of the 1930's. The dust storms and drought of the 1930's were the worst of times. Her mother died in 1936. Upon graduation from Buhler High School in 1937, Irene scored highest on a test to win the Reno County Resident Scholarship to attend Hutchinson Junior College. Her dream was to teach children the subjects in which she excelled. In 1939, Irene graduated from Tabor College in Hillsboro with a 2 year teaching certificate.
She was employed at Number 9 School, grades 1 – 8, in rural north-eastern Marion County, Kansas. This was a one-room school house; the teacher did all the chores. Each day class started with the Pledge of Allegiance and Patriotic Songs. Irene loved teaching school, especially mathematics. In 1941, the cowboy and school teacher married and moved to a farm in the Elk Community in northern Chase County, Kansas. The following year, Irene resigned from the school house, "to help with the farm work and to raise a family."

Emile, Jr. worked for the Badger Brothers who looked after Texas steers shipped by railroad to the Hymer stockyards to fatten on the lush bluestem in the Flint Hills pastures. In the fall, the steers were rounded up and shipped via railroad to the packing houses to the east. When lightning struck and burned their farm house to the ground, Emile, Jr. and Irene moved to a farm outside of Cedar Point, Kansas. For over 8 decades, Emile, Jr. rode the Flint Hills on horseback and herded cattle, fed cattle, roped cattle, fixed and built fence, climbed windmills, doing whatever work was needed. Time was governed by sunrise and sunset. When the fall round-up was completed in October, the cattle owners would say, "See you next year," and Emile's reply was "Yep." This was the only contract ever needed. Emile always preferred a windmill to pump water, and said, "Raising cattle you're dependent on the grass."

In 1962, Irene returned to her education at Kansas State Teachers College in Emporia. In 1965, she graduated with a Bachelor's Degree in education. At Cottonwood Falls Grade School, she taught mathematics and social studies in the 7th & 8th Grades and later moved to the 6th Grade Classroom. Each year her 6th Grade Class participated in the conservation poster contest held by the Chase County Conservation District. In 2006 Emile Jr. and Irene Soyez were awarded the Chase County Conservation District Grassland Award recognizing those who have done an excellent job improving and maintaining their grassland resources.
Last updated: April 10, 2015