Publications
If you've visited national parks, you're probably familiar with their black-band brochures as the source for basic information and colorful maps. But look closer: park brochures convey National Park Service (NPS) identity, parks' national significance, critical safety and stewardship information, and a sense of relevance. Historical photos take you back in time, and original illustrations take you far beyond what you can see with the naked eye. All this in a piece of paper that averages pennies per copy!
Park brochures are known as "Unigrids" because they share a grid system that provides an unseen, supporting structure for the many variables of design and print production. They are produced by NPS Unigrid Brochure Program staff at Harpers Ferry Center (HFC) who work closely with park staff. If you're an NPS employee looking for a new or revised brochure, publication templates, or braille resources, we have information for you too!
Please note that we do not stock individual park brochures. You will need to contact parks individually to request them. Find a list of all the parks.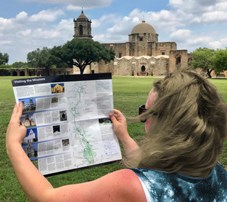 Maps
Brochure maps feature the places you most want to visit—visitor centers, scenic viewpoints, hiking trails, and places to stay or eat. Unigrid brochures may also include detailed panoramas showing park landscapes as if from a plane, 3D maps with photorealistic details, or even cartographic diagrams. Learn more about maps or download park maps.
Hear more from a cartographer who made maps for park publications in "Maps," episode five of the podcast A Sense of Place: Stories of Stewardship from the National Park Service.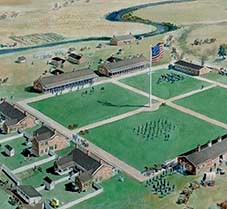 Illustrations
Illustrations are a central element in many park publications. They bring to life parks' stories, often showing events, places, and features that are not immediately apparent or can no longer be seen. Many illustrations originally commissioned for brochures are also used in used in exhibits and other digital and print media, or they become posters and postcards for sale in park bookstores.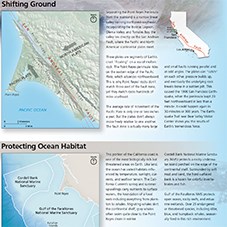 Text
Unigrid brochures tell the important stories of people and places in parks. Why was the park created? What makes it unique? Why is it critical to preserve the park? What's the human history of the area? What plants and animals might you see? The text welcomes you to the park and inspires you to learn more.
Hear more from an author who wrote park publications in "The Hidden History of Park Publications," episode four of the podcast A Sense of Place: Stories of Stewardship from the National Park Service.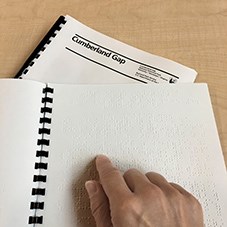 Accessible Options
Braille booklets, audio-described brochures, and large-print brochures allow visitors who are blind or have low vision to explore park Unigrid brochures.
Our braille editions transcribe the text of all official park Unigrid brochures. Braille editions are available both online and in print. Contact the park to receive a braille booklet onsite (it's yours to keep!), visit the park website to access the braille ready file, or check out hardcopies through the Library of Congress, National Services for the Blind and Physically Handicapped. (Find a list of all the parks.)
Audio-described versions of over 100 park brochures are available through the UniDescription (UniD) app, available free through the Apple and Google Play stores. The UniD project is ongoing; more Unigrid brochures are added each year. Some parks, such as Denali National Park and Preserve, also post audio-described brochure content on their websites.
Some parks may have large-print versions of their brochures. Contact the parks directly for more information.
Resources for NPS Staff
The NPS Unigrid Brochure Program provides many additional resources for park staff, including:
Last updated: May 31, 2023